Support animals in need this giving tuesday!
Cocoa came to HSCC as a stray in October 2020. She had fully torn the cruciate ligaments in both her knees, the equivalent to ACL tears in humans. This caused Cocoa chronic arthritis and pain – though this hasn't stopped her from being a big lovebug!
Because of the significant damage to Cocoa's knees, her large stature, and pain from walking, a procedure called TPLO (tibial plateau leveling osteotomy) was determined Cocoa's best chance to improve her quality of life and prepare her for the journey to find her new family. Cocoa will be in HSCC's care for another four months, and her surgeries alone are expected to cost more than $5,000.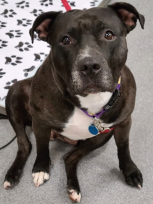 Cocoa is just 1 of the more than 1,000 animals HSCC cares for each year, regardless of medical or behavioral needs.
HSCC relies on the generosity of animal lovers like you to help care for Cocoa and the many others like her.
This Giving Tuesday, please unleash your generosity and make a donation below.