Diamond Traveler
Sex:
Breed:
Age:
Reason Here:
Arrival Date:
Energy Level:
Size/Weight:
Special Considerations:
In early September, a beautiful marbled tabby arrived at our shelter as a stray. The woman who brought her in said she'd been hanging around her neighborhood for a few weeks, and seemed to be abandoned. She would have loved to keep her if she weren't allergic! And no wonder--this kitty was incredibly friendly and affectionate. We named her Bobbie-Jo.
Bobbie-Jo appeared healthy and well-fed, so we did what we always do when strays come in: looked for a microchip. A microchip is a tiny chip of semi-conducting material that holds an animal owner's address and contact information on it. The chip is implanted just under the skin at the back of the animal's neck. If the animal is lost, anyone with a microchip scanner can scan the animal for the chip and retrieve the owner's information.
In Bobbie-Jo's case, she did have a microchip--and we were shocked when we saw the address on it: Illinois!
We called the phone number listed and were even more shocked after talking to Bobbie-Jo's owner, Laura: Laura and her family did live in Illinois now, but this cat--originally named Diamond--had gone missing in New York City. A year ago!
It turns out that Diamond had escaped from their home while the family was in the process of moving. They had closed her in a bedroom while movers loaded up their furniture--but the movers accidentally let her out, and she disappeared. The family had only three days to look for her before leaving New York. Laura writes,
After she escaped from our home while moving to IL from NY, we searched everywhere for her. We called the animal control, the military veterinarian, and the animal shelters as well as asking around the neighborhood if anyone had seen her. I even continued to call the shelters and animal control for a few months after we had moved - and nothing. No sign of her.
I had nearly given up on finding her. A few weeks ago, I was looking at her health records and nearly threw them away because I didn't think I'd see her again after so long (over 14 months). Something told me to hang on to them, and I thought "what can it hurt?" Then I got the phone call from Jen that Diamond had been found (hooray for microchipping)! I was shocked to say the least, and very excited, yet anxious to see her. I kept the news a surprise for my kids, and arranged it with Kayla to fly Diamond back home.
On Friday, September 13, Diamond caught a flight to Illinois. Laura met her at the airport that afternoon.
I was worried Diamond would be stressed out from the trip, and when she arrived she was hiding in the back of her kennel. As soon as we got her settled in the car, she relaxed some. Once we got home, my kids took one look at her and their eyes got so big! They were so excited to see and pet her, and couldn't believe she was actually found - and in Vermont! We were all pleasantly surprised that she was just as healthy and beautiful as she was before. We introduced her to our new home and let her settle down in her little room for awhile. After a bit, she meowed to let me know she was ready to come out (she was always very communicative). I opened the door and she walked around a bit, then settled right onto her place on the couch. It was like she was never gone. She wasn't timid or afraid of the new surroundings, and seemed to remember all of us. She even returned to sleeping in her favorite spot at night - on my oldest daughter's chest. We are so happy to have Diamond home finally, and are so very grateful for all of the assistance everyone gave us in caring for her and getting her home to us! Thank you all - you are appreciated!
As for the missing link about how Diamond traveled from New York to Vermont? That'll have to remain Diamond's secret.
We're so happy for this kitty and her family. She's our new poster cat for microchipping!
Adoption Center Hours:
Tuesday - Friday 1:00 - 5:00 pm
Saturday: 10:00 am - 4:00 pm
Sunday & Monday: CLOSED
Please note that our facility remains closed to general visitors. Visit the Pet Adoption page for more details on our latest adoption process updates.
Happy Tails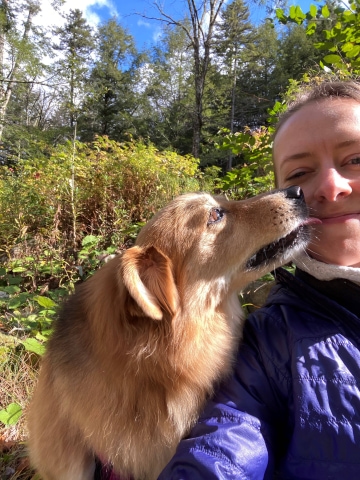 January 26, 2021
---