Lucy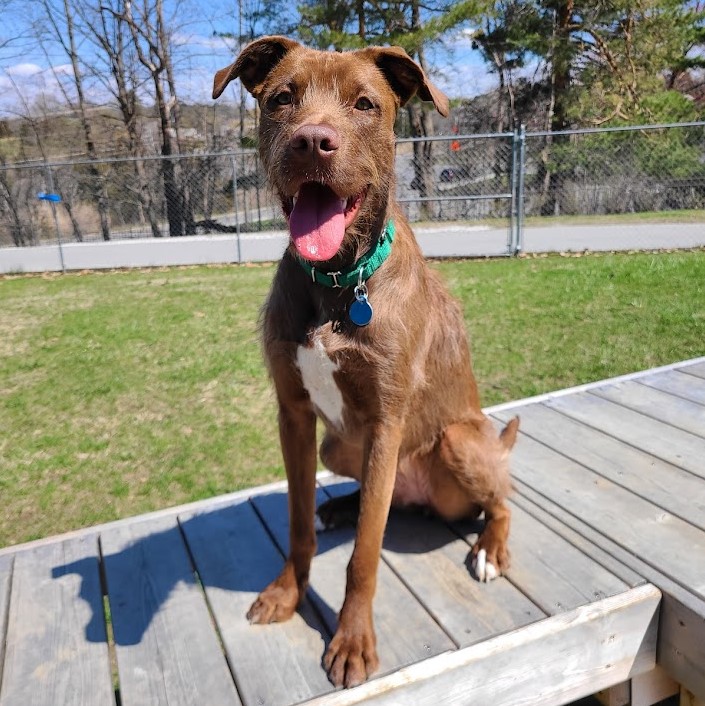 Sex: Spayed female
Dogs:
Cats:
Kids:
House Trained:
Crate Trained:
Breed: American Shelter Dog
Age: ~ 2 years old
Reason Here: She was brought to HSCC because she was not a good fit in her previous home.
Arrival Date: 4/26/2022
Energy Level:
Size/Weight: 60 lbs.
Special Considerations:
MEET LUCY!
This wiggly, bouncy girl is up for any adventure! She's a fun-loving pup with lots of energy for hiking mountains, jogging around the neighborhood, or playing in the back yard – or all of the above! Lucy prefers the company of people over other animals, but she's got plenty of love to give as your one-and-only pet. With her big smile and adorably scruffy face, it's easy to fall in love with Lucy; even more so once she settles into your lap for snuggles. Come meet this cutie and see if she's the pup for you!
ENERGY LEVEL: High
- She'll need plenty of physical exercise and mental enrichment every single day.
DOGS: Needs a home without other dogs
- Lucy has limited experience with other dogs, but generally has not done well with dog friends. She reportedly did not interact appropriately with other dogs that she met and played "too rough" with them. There have been two instances where she got into an altercation with other dogs, bit them, and did not release until forced. In the second instance, she bit the people who intervened to pry her mouth open. She has not shown any other signs of aggression toward people, but seems content not to hang out with other dogs.
- She has generally been unreactive toward other dogs here at HSCC, does not bark at those in adjacent yards, and has done well on walks with other dogs at a reasonable distance (~20 feet away). But she has not shown much interest in interacting with other dogs and will keep her distance when given the option.
- We recommend conditioning Lucy to comfortably and happily wear a muzzle for situations where she may be in close proximity to other dogs, such as trips to the vet or on hikes where she may encounter off-leash dogs.
CATS: Has lived with cats; needs a home without small animals
- Lucy lived with cats in her previous home. She was reportedly fixated on them and would chase them any chance she got. There was one incident where she bit and held on to one of the cats, and only released it when the owner opened her mouth. (Luckily, the cat was uninjured). Since then, she was kept completely separate from the cats.
- She has also shown some predatory drive toward outdoor cats, a smaller dog, and other small animals that she has encountered.
- If you've got small animals at home, consider ahead of time how best to introduce them and manage their interactions.
KIDS: Has lived with children
- Lucy lived with a 3 year old in her previous home and her owner reported that she was great with kids that she met.
- She's a young dog who can be jumpy and sometimes mouthy when playing or overexcited, so she may be a bit overwhelming for very young children.
- We recommend supervising interactions between kids and dogs to make sure everyone is behaving appropriately and staying safe.
SPECIAL CONSIDERATIONS:
In her previous home, Lucy was not left alone very often. She got to spend time at home with her family and would join them out on adventures or just running errands. Being left home alone for extended period will be a new experience for her, so we recommend starting slow and gradually increasing the amount of time that she is left alone, and watching for signs of separation anxiety.
Lucy reportedly does well in the car and likes to go for rides.
She will benefit from some basic training to help her manage all her excitement and enthusiasm for life.
- Basic training classes or a few sessions with a trainer can be a great way to get started.
- Training is a great way to build a bond with your new pup, like learning a common language.
- We recommend positive reinforcement-based training – teach Lucy what you want her to do! We do not recommend e-collar or punishment-based training, as these methods often have long-term negative effects on dogs (physically as well as psychologically) and create behavioral problems.
- We are happy to provide guidance on training resources, methods, and finding a trainer.
She isn't a puppy, but it's still important for her to learn what is expected of her in her new home.
- Be consistent from day 1 – it's much easier and less confusing for the dog to loosen the boundaries later than to implement new rules.
HOUSE TRAINED: Yes
- Lucy was house trained in her previous home.
- Keep in mind that a dog who is house trained in one home may still have accidents in a new environment.
CRATE TRAINED: No
- Lucy is not crate trained. Her owner noted that she didn't typically get into things around the house, but that she would counter surf and take any food that was accessible if left alone.
- If you're interested in using a crate with Lucy, be prepared to start from scratch, take it slow, and make the crate a comfortable safe space for her.
Adoption Center Hours:
**New temporary hours effective 4/25/22**
Tuesday - Friday: 1:00 - 4:00 pm
Saturday: 10:00 am - 3:00 pm
Sunday & Monday: CLOSED
Visit the Pet Adoption page for more details on our latest adoption process updates.
Happy Tails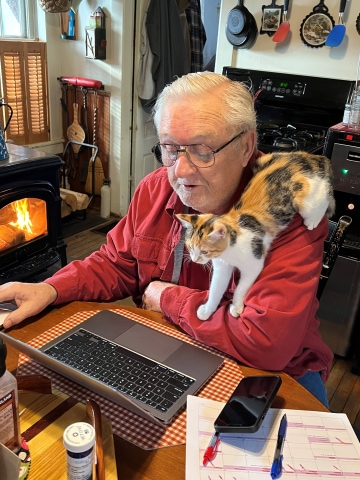 February 17, 2022
---