The one who stood out and I couldn't leave behind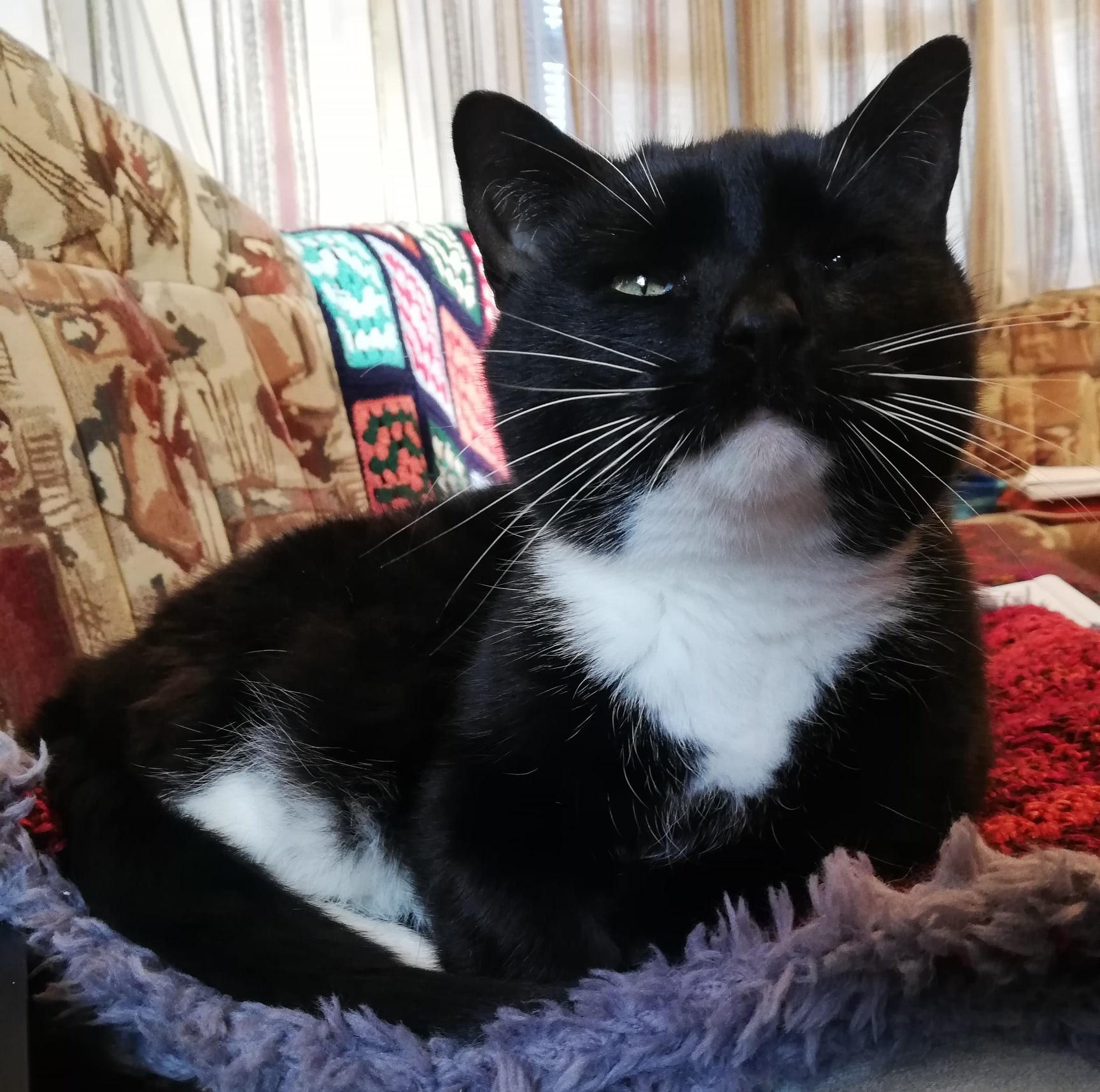 Sex:
Dogs:
Cats:
Kids:
House Trained:
Crate Trained:
Breed:
Age:
Reason Here:
Arrival Date:
Energy Level:
Size/Weight:
Special Considerations:
Hi, I wanted to give you an update on my cat Cadbury who I adopted about 4 years ago. It was my first time having my own pet and it has been a trip! When I got her she had a sensitive stomach and needed grain free food (she still does but more about that later). Living in Burlington in a busy traffic area she was an indoor cat...she wanted to be outside SO MUCH and we compromised on a long lead. This worked ok-ish...

She is a sweet and good-natured cat, especially around children (but no time for other animals). She was, and is, great company to me, and when I went to see your wonderful facility in Burlington she was definitely the one who stood out and who I couldn't leave behind. Thanks to everyone there who helped me!

When I left the US and came home to Ireland, I was talked by friends into bringing her with me (in their defense I was also lectured soundly by other friends NOT to put her through the trip)…the rules for transportation of a pet internationally are complex and somewhat contradictory.

Anyway, she arrived in Ireland and got introduced to my mother's cats...this (as expected) did not go well...she also got introduced to the idea she could go outside if she wanted...this did go well!! In Ireland there is no risk of rabies and very few predators that a cat couldn't see off plus they were in a well-protected suburban area with little traffic.

She never got totally used to the other house cats and there were a lot of outdoor cats. She acted out by eating too fast, eating their food, getting very fat despite everything we tried, and throwing up everywhere...not good. It is true that she has [some food] intolerance (she is on a urinary health diet), but the issues seemed to be psychological as well.

For the past 6 months, we live right out in the country. There's only the three cats now for miles in any direction. Cadbury (renamed Berry, but now nicknamed Catface because she generally looks grumpy even when purring, which she does a lot) has discovered true freedom. She is an excellent mouser, she walks miles each day by the looks of things, she comes home and is sociable when she's had enough investigation of the great outdoors, she no longer (usually) eats the other cats food nor throws up. And she is a much healthier weight - almost thin! She no longer has a wobbly belly swinging alarmingly as she trots along the top of a wall!

This is a very, very happy cat. Was it worth all her adventures? I hope so! I love having her and it makes me so happy to see her bouncing around!

Adoption Center Hours:
Tuesday - Friday: 1:00pm – 6:00pm
Saturday: 10:00am - 4:00pm
Sunday & Monday: CLOSED
Happy Tails