He's the mascot of my preschool
December 3, 2016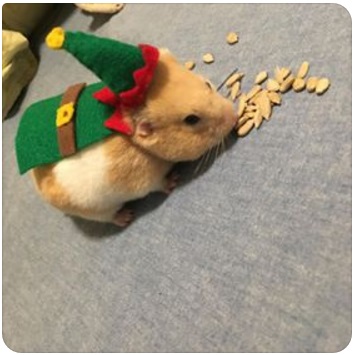 Creemie is a well-loved hamster who was adopted in August 2016:
Someone called a few days ago asking about Creemie and I said I'd send a few pictures! He's doing so well - he is the mascot of my preschool and a blast to dilly-dally with at home as well! He is a good critic, loves sampling everything offered to him! He has brought more joy and smiles than you can imagine, thank you HSCCVT!
Adoption Center Hours:
Tuesday - Friday: 1:00 - 6:00 pm
Saturday: 10:00 am - 4:00 pm
Sunday & Monday: CLOSED
*We will be closing at 4:30PM on Wednesday, 9/11
Please note we have limited services one hour prior to closing. Temporarily, dog visitations end at 5PM on weekdays. While we do our best to accommodate all visitors, if you are interested in adopting, we recommend visiting us earlier in the day.
September 15, 2019
---
September 14, 2019
---
Happy Stories