We would love to hear from you!
ADOPTION CENTER HOURS
Tuesday through Friday: 1:00pm – 6:00pm
Saturday: 10:00am – 4:00pm
Sunday & Monday: CLOSED
We're often asked why we're closed for the first half of the day. With an average of 100 animals in our care on any given day, we use the first half of each day to clean, feed, and care for the dogs, cats, and small animals in our shelter. We devote Sundays and Mondays to full facility cleanings, special projects, and additional efforts to work with our residents.
Directory
Adoptions, Animal Surrender and General Inquiries:
Phone: (802) 862-0135 x10
Email: bestfriends@hsccvt.org
Volunteer & COMMUNITY EVENTS:
Phone: (802) 862-0135 x14
DEVELOPMENT & DONATIONS:
Phone: (802) 862-0135 x15
FOSTER CARE PROGRAM:
Phone: (802) 862-0135, option 5
HUMANE INVESTIGATION:
Visit our Report Animal Cruelty page
General Inquiries:
Please fill out the form below or check out our FAQ's page first. We will be in touch as soon as possible!
Adoption Center Hours:
Tuesday - Friday: 1:00 - 6:00 pm
Saturday: 10:00 am - 4:00 pm
Sunday & Monday: CLOSED
Please note we have limited services one hour prior to closing. Dog visitations end at 5:30PM on weekdays and at 3:30PM on Saturday. While we do our best to accommodate all visitors, if you are interested in adopting, we recommend visiting us earlier in the day.
Happy Stories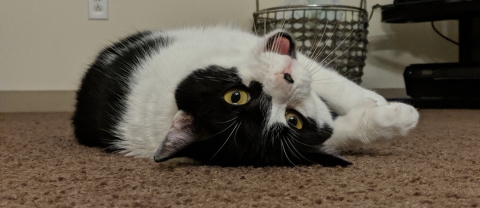 December 27, 2019
---