What Are Free-Roaming Cats?
Free-roaming cats can be found everywhere and anywhere. Some are owned cats who live both indoors and out, while others have caretakers but live outdoors only. Some are former pets who were abandoned or lost. Then there are cats who are feral, either born in the wild or who have spent all or most of their lives outdoors without human contact, and live in a wild or semi-wild state. Many feral cat colonies live close to humans, but still behave like wild animals. In Vermont, we often call these barn cats.
What's the Difference Between Stray and Feral Cats?
A stray cat is one who has some level of socialization with people. A cat may be found outdoors for many reasons: it may be an owned cat who spends some if its time outside before returning home regularly, an indoor-only cat who got outside accidentally, or a previously owned cat who was lost or abandoned, among many other possible scenarios. Depending on their initial level of socialization and how long they've gone without human contact, stray cats may still be fearful or avoidant of people. Others are extremely friendly with or without food enticement. Formerly stray cats can often be adopted into typical home environments, but only after efforts have been made to identify a rightful owner. If you think you've come across a stray cat, please visit our Lost & Found Pets page for more information on the proper steps to follow.
Feral cats are those who have not been socialized to people and live outdoors. They may have a caretaker who provides food and basic shelter, but these cats do not have regular contact with humans. Feral cats are accustomed to living independently and will not acclimate to living indoors with people. Kittens born to a feral mom can sometimes be socialized to people if caught young enough, but should not be removed from their mother too early. Feral cats can be captured using humane traps in order to have them vaccinated and spayed/neutered to prevent more litters of kittens and/or to address serious medical concerns; this process is known as Trap-Neuter-Return or TNR (see below for more info). However, some cats are more difficult to trap than others, particularly if they've already been caught once before. A cat who has already been fixed and released back outside will typically have an "ear tip", a missing tip of one ear that serves as an easy identifier.
Different steps are needed to provide appropriate care for stray and feral cats. If you've spotted a cat outdoors and aren't sure what to do, contact us for help.
You can also look at this guide from Alley Cat Allies to help distinguish between stray and feral cats.
TRAP-NEUTER-RETURN
Trap-Neuter-Return (TNR) is the cornerstone of cat colony management and the only successful long-term strategy for humanely controlling the population of feral or free-roaming cats. A sterilized (spayed & neutered) colony of feral cats will stabilize and eventually decline in numbers through illness, accidents, and old age. A sterilized colony often acts to keep new, unsterilized cats away from their colony.
To reduce the amount of free-roaming cats in a neighborhood, the solution is to maintain a sterilized (spayed & neutered), managed colony. Trap-and-kill programs & relocation programs do not work, nor do they fall within HSCC's mission. Because of the territorial nature of feral cats, when all the resident cats are removed from an area a "vacuum" is created, and cats from nearby neighborhoods will often move into this new unclaimed territory.
HSCC can assist those wanting to care for feral cat colonies or barn cats in Chittenden and Grand Isle Counties by providing live-traps, assistance, and spay/neuter services free of charge. To schedule a free TNR appointment, please call our Community Pet Clinic scheduling line at (802) 923-9028. Please note that TNR appointments are for feral cats who are returning to their original location with a dedicated caretaker.
If you have found kittens or are unsure a cat is feral and need help making a plan for them, please call our front desk at (802) 862-0135 for assistance.
Estimating a found kitten's age helps us determine how urgently they need care and what the appropriate next steps might be. Check out this handy age chart from Alley Cat Allies to guide you in providing us with the most accurate info you can!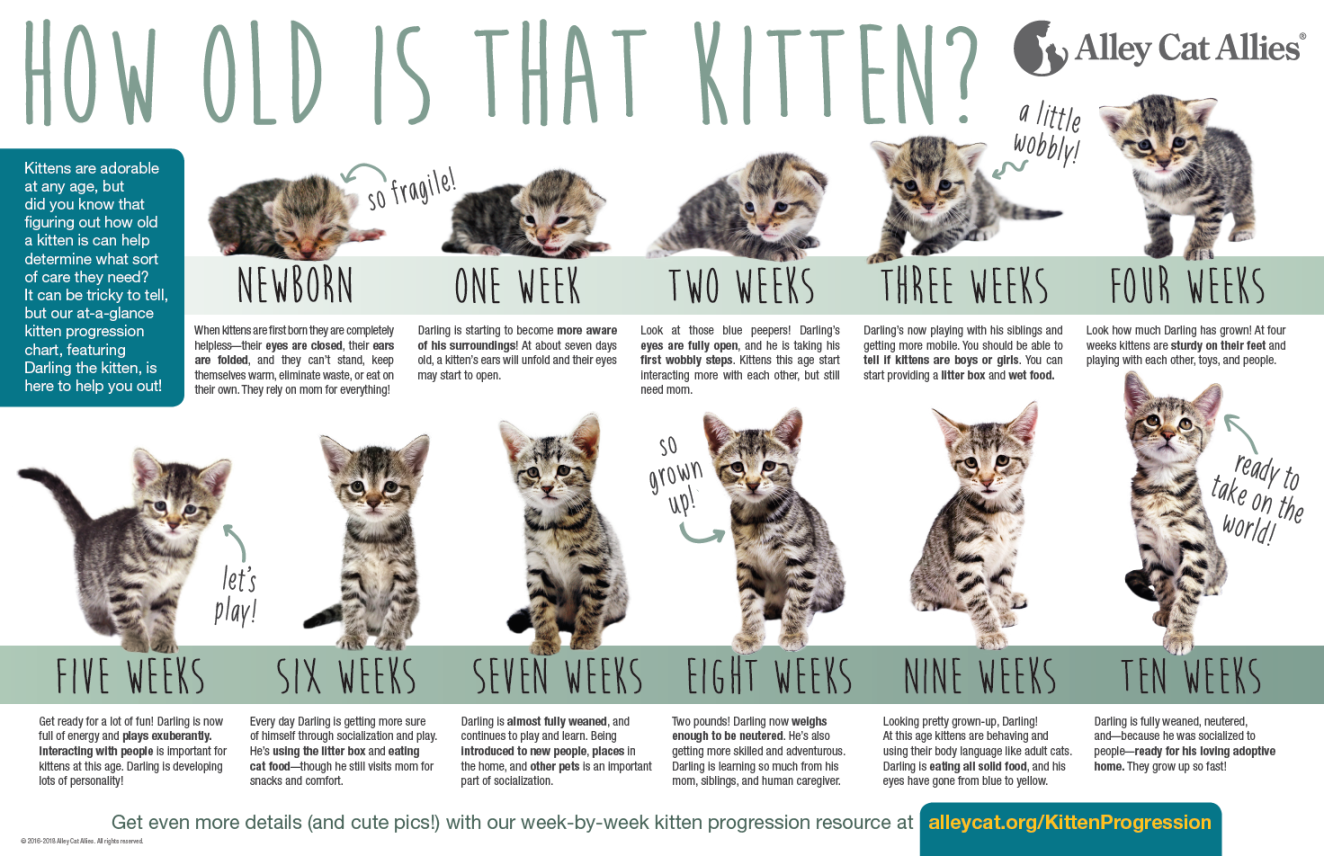 Adoption Hours:
Tuesday - Friday*: 1PM - 5PM
*Thursday 12/14: 1PM - 3PM
Saturday: 10AM - 4PM
Sunday & Monday: Closed
Happy Tails