Erin Alamed: Director of Volunteer & Community Outreach
Erin has always had a special place in her heart for animals. Giving them a voice, supporting and loving them is a mission she could not refuse. Originally from Maryland, she came to Vermont for school in 2000. Her journey with HSCC began in 2013 when she started volunteering. Erin did everything from cleaning to event help and loved every minute. Over time she's adopted a cat, Emma and two dogs, Siena and Shelby from HSCC.
When Erin was offered a position at HSCC at the beginning of 2015 she was ecstatic! She is so proud to be working with such an amazing staff and so many awesome volunteers who do so much to help the animals in our comminuty. To call herself lucky would be an understatement.
Lauren Belanger: Animal & Customer Care
Lauren is the proud mom of one cat named Cammy as well as one HSCC alum named Smalls the Chinchilla! She was born and raised in Houston, Texas. Growing up, she frequently brought in strays and was always on the look out for animals in need. Later on, she graduated school in Florida before living in Quebec, Canada.
Lauren and her husband Eric eventually moved here to Burlington Vermont and after years of working for a locally owned family business on Church Street she finally came to be with us here at HSCC. She couldn't be more grateful being able to reach out and help our amazing community along with the loving animals we care for.
Amanda Bottiggi: Communications & Development Coordinator
A native Vermonter and lifelong animal lover, Amanda comes to HSCC after several years working in the health & wellness field. After graduating from the University of Vermont in 2011 with a degree in Nutrition & Food Science, she pursued certifications in personal training, group fitness instruction, and health coaching. Along the way, Amanda began to dabble in blogging, web design, and social media management. While she has spent most of her professional life focusing on people, animals are really who are closest to her heart. Amanda grew up with several pets and also enjoys pet sitting for others. In 2016, she adopted her own furry best friend, a Corgi-Beagle mix named Rocky (although you can also call him by his Instagram name, @grumpsnstumps).
In her free time, Amanda loves to read, garden, cook, and spend time with Rocky, her husband Brian, and their cat Cleo (an HSCC alum!). She is thrilled to be a part of HSCC!
Joyce Cameron: President & CEO
A New York City native, Joyce came to Vermont to attend college and stayed. With a degree in business administration, she has over 20 years of experience working in private, public and non-profit sectors and has an affinity for mission driven organizations. Joyce is a graduate of the Snelling Center for Government's Leadership Institute, a court appointed guardian ad litem, and a member of both a state commission and board. Growing up in a household with four dogs, Joyce developed a love for animals at any early age and looks forward to helping further the mission of this wonderful organization dedicated to improving the lives of animals and humans alike. In her (not much) spare time she hikes, cycles, skis, paints, gardens and enjoys cooking for friends. She lives in Charlotte with her spaniel Remy.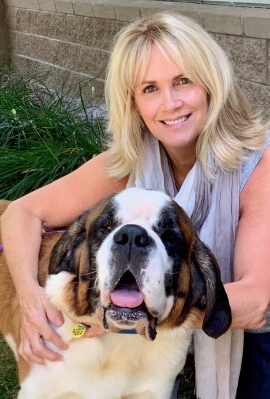 Cynthia Harris Cole: Animal Care Manager
Cynthia is thrilled to be a member of the HSCC team! Having grown up in upstate New York surrounded by animals, she feels right at home with all of the shelter's residents. She loves animals of all shapes and sizes, and advocated for their humane and compassionate treatment from an early age. Out of all the joys that come from working with animals, her favorite is spending time with the underdogs (of all species) and seeing their resilience in overcoming whatever challenges they face.
In her free time, Cynthia enjoys reading, baking goodies, and of course spending time with her husband and rescue dogs enjoying all that Vermont has to offer. Her pups Angie and Mia inspired her to pick up books, watch videos, and attend classes on dog behavior and training. While none of them claim to have perfected their training, the experience gave Cynthia a greater appreciation for the relationships between people and the animals around them.
Prior to working at HSCC, Cynthia studied history and worked in the publishing and legal fields while volunteering with animal welfare organizations, something she always found exciting and rewarding. Now she is grateful for the opportunity to follow her passion in helping people and animals!
Alex Dalton: Animal Care assistant
Though not a Vermont native, Alex graduated from Saint Michael's in 2013 and she fell in love with all that is Vermont.
It has been obvious from an outsider's perspective that Alex has always been an animal lover, although it took her awhile to realize it is in her nature and a passion to care for animals. It became more evident to her more recently due to her experiences working at a goat farm and also having rescued an Anatolian Shepherd who came to her home unknowingly pregnant and unexpectedly gave birth to five puppies. It was a pleasant surprise and a wonderful experience for Alex to care for and nurture the puppies from birth.
In her free time, she loves hiking, camping, and rollerblading, but is also one who really enjoys relaxing.
Whitney Doremus: Dog Trainer
Whitney began her dog training career in 1997 when she took a position as the Dog Trainer at Petsmart in Gainesville, FL. Very quickly she learned how much more she needed to learn and ended up with an apprenticeship with Dee ZurBurg of Class Act For Dogs. After a year of intense human training, Whitney moved to Wilmington, NC where she took a position at Dogtrain. In 2001, she opened the first doggy daycare in North Carolina, Dogs At Play, and still owns it today. In 2010 she moved back to Vermont, where she was born, and has been teaching humans how to train dogs in our area ever since. You may have worked with her before at HSCC under her private training business, Super Dogs, or through Vermont Dog Club in Essex Junction. Whitney shares her life with her amazing partner, Shannon, and their three dogs.
Eva Erdogan – Animal & Customer Care
A lover of all things nature since childhood, Eva grew up living in different places around the country before finally landing in Vermont. She began as a volunteer at HSCC in high school, and almost 3 years later was thrilled to have the opportunity to join the team as an animal care staff member!
She is passionate about helping all animals in need and improving their lives, whether it be a tiny mouse or Great Dane. She currently has two small parrots as well as a rehabilitated gecko. She hopes to foster, rehab, and rescue more animals in the future, with her lifelong goal being to create a sanctuary for animals in need.
Miche Faust: Customer Care
Miche was born and raised in New Orleans, LA, has lived in Southern California and Central Florida, and now feels right at home in Northern Vermont. She appreciates the strong sense of community here and she just can't get enough of the beauty that surrounds her.
She's been an animal lover for as long as she can remember. She grew up with dogs and smallies (hamsters and mice) but was disappointedly allergic to cats as a child. Luckily, she grew out of that and adopted her first pair of kittens right after college- being a vet tech at the time was a huge help! Miche has also worked as a pet sitter, has worked for two federal government agencies and even ran a small non-profit cat rescue. She volunteered countless hours as a cat and kitten foster parent for a busy shelter in Florida. This is where her passion for animal welfare really took off, as she was overwhelmed by the need to do something about the cat overpopulation there. After positive life events moved her north, she knew she needed to continue helping FL cats and does what she can in her personal time. She was excited to learn that HSCC relieves FL rescues by welcoming many of their kittens to VT through the wonderful transport program. She is proud to be a part of the dedicated HSCC team and knows she's found her place.
When she's not hanging out at home with her partner Tom and their gang of adorable rescue cats, you can find Miche practicing yoga, riding her bike, watching the gorgeous sunsets over Lake Champlain, shopping flea markets, and enjoying just about any outdoor activity.
Jocelyn Girton: Animal & Customer Care, Small animal coordinator
Jocelyn is a born and raised Vermonter who adopted her first two cats twenty years ago from HSCC. Since she can remember, she has always had a deep compassion and respect for all creatures great and small. She began volunteering at various shelters at a young age and has always found animal energy to be incredibly rejuvenating and healing.
Jocelyn studied film at Burlington College before pursuing a massage therapy certification and working as a massage therapist at Jivana for the past few years. She hopes to bring her positive healing energy and dedication to animal welfare to HSCC while being able to develop skills to help local and global animal communities.
When not catering to her cats Atticus & Gilbert and dog Chloe (all HSCC alums), she can be found outside soaking up summer sun, dog spotting, reading, painting, and hitting as many dance floors as possible.
Kristen Guldbech - Spay/Neuter Veterinarian
Kristen grew up in New Jersey. Before attending veterinary school, she got her masters in Animal and Dairy Science at the University of Georgia. She then attended St. George's University School of Veterinary Medicine in Grenada, West Indies. During her time in Grenada she was part of a program that would travel around the island and help provide spaying, neutering, and veterinary care to the local pets most in need. This is where her love for shelter medicine began. She was a part of the shelter medicine student association and advocated for shelters on the island.
After Grenada, she did her clinical year at Iowa State University. After a year in the Midwest she missed the trees and mountains and decided to move back to the East Coast. Since beginning in private practice, she has made several trips with volunteer organizations dedicated to providing population control and rabies vaccinations to endemic countries to help try reduce rabies cases worldwide. In her spare time she likes traveling, hiking, camping, making pottery, and cooking. Her special veterinary interests include shelter medicine, oncology, theriogenology, and worldwide rabies prevention. Kristen lives in Burlington with her dog Skillet and her cat Miss Grits.
Diana Hill: Director of Development
Diana is over the moon to be working for HSCC. Raised in Vermont, she attended college in Washington, D.C. and spent several years on the West Coast working for non-profits and animal welfare organizations. A dedicated advocate for all animals, Diana also has years of fundraising experience under her belt. She is thrilled to further the mission of HSCC.
In her free time you may find her scuba diving, sailing, cooking veggies from her garden, or hitting the slopes. She lives in Monkton with her husband Andrew, their dog Roger, and new additions Oscar and Ginger (HSCC cat alums!).
Brent Householder: Director of Finance & Administration
Brent loves animals! He also believes in working to make the world a better place. These qualities make his work with the Humane Society of Chittenden County a meaningful and valuable experience. Originally from Ohio, Brent moved to Vermont in 2018 to take a job with the Vermont State Auditor's Office, only to realize that he wanted to return to the non-profit sector. Prior to moving to Vermont, he was the Finance Director for Wabash Valley Habitat for Humanity in Terre Haute, Indiana. Brent has also held the positions of Senior Performance Analyst with the Ohio Auditor of State's Office, Budget and Performance Coordinator with the City of Gahanna (OH), as well as Outreach Coordinator with the Southeastern Colorado BOCES in Pueblo, Colorado. Brent obtained his BA from Bluffton University (OH), his MPA from Ohio University, and MBA from the University of Findlay (OH). Brent lives in Montpelier with his wife Christy, two adorable Cavalier King Charles Spaniels (Darwin and Winston), and tuxedo cat (Simon). In his free time Brent likes to play tennis, bowl, and also take walks with his wife and dogs. He also serves as Treasurer for the Central Vermont Habitat for Humanity affiliate in Montpelier.
Chelsea Beauregard Kiessling: shelter director
Having grown up with all sorts of animals, from cats and dogs to birds and reptiles, Chelsea developed a love and respect for them all. During her six years as the Director of an emergency outreach center in Burlington, she fostered numerous dogs through a local rescue. It was during that time that she knew she wanted a job that combined both of her passions: helping people and helping animals. HSCC has been a chance to do just that. Chelsea enjoys working with people who share those same passions and for an organization that is always striving to improve the lives of animals, both in and out of the shelter.
Chelsea lives in Essex Junction with her husband, Mike, son Camden, two rescue cats (Elvis and Cali), and dog Milo (an HSCC alumni!).
Heather Klaff: Medical Care Manager
Heather grew up in Connecticut and began working in the veterinary and zoo fields in high school. Once started, she could never imagine doing anything else. Upon graduation from the University of Vermont in 2009 with a degree in Animal Science, she decides to stay in Burlington and pursue a career as a veterinary technician. After spending multiple years in private practices in the area, she joined the HSCC team in 2014 to manage the medical program. Heather conducts exams, vaccines and testing for all of the animals coming into the shelter, works with local vets to schedule needed surgeries, keeps up on the overall health of the HSCC animal population, and works closely with HSCC's veterinarian of record to manage and adopt out the many tough medical cases HSCC receives. She loves coming to HSCC every day to work with a fantastic team and do her dream work in animal welfare! Heather currently lives in South Burlington with her boyfriend, and when not working, loves ballroom dancing, painting and sketching, cooking delicious food, and spending time with their very cute cats and equally cute crested gecko.
triana Kozak: medical care assistant
Triana graduated from The University of Vermont with a bachelor's degree in Psychology. Triana has been an animal lover her entire life, growing up with a number of different pets including guinea pigs, snapping turtles, dogs, a tortoise, and two cats who survived from a stray's litter in her garage. Triana lives with her husband Ben, their dog Gus and their two rescued cats, Morty and Macho. She enjoys taking Gus on adventures and long hikes, and Ben and Triana love their home in Vermont where they camp, kayak, snowboard and explore the north country. Triana is excited to be working for HSCC, continuing her lifelong mission to help animals and people alike.
Pamela Levin, DVM, CVA, CCRT, CVPP: Vet of Record
Dr. Pam Levin is originally from New Hampshire and earned her Bachelor of Science degree in Animal Science from the University of New Hampshire in 1992. She graduated from Ross University, School of Veterinary Medicine in 1998 after completing her senior clinical rotations at Oklahoma State University. Dr. Levin has practiced as a small animal general practitioner and emergency and critical care veterinarian in New York, New Jersey, California, and Massachusetts. Dr. Levin received her Certification in Veterinary Acupuncture in 2009 through The International Veterinary Acupuncture Society and her Certification in Canine Rehabilitation Therapy in 2011 through the Canine Rehabilitation Institute. Prior to joining BEVS in 2016, Dr. Levin served as staff acupuncturist and rehabilitation therapist at a large emergency and referral hospital in New Jersey. Dr. Levin's areas of interest include improving patient's quality of life though pain management, therapeutic exercise, and noninvasive adjunctive therapies.
Dr. Pamela Levin is a Certified Veterinary Pain Practitioner (CVPP). Certified Veterinary Pain Practitioners are veterinary professionals that the International Veterinary Academy of Pain Management (IVAPM) has recognized as having the training and skills necessary to practice animal pain management effectively and ethically. IVAPM's certification program is rigorous and comprehensive, covering pain medications, physical rehabilitation, therapeutic laser and acupuncture. Certified Veterinary Pain Practitioners are committed to recognizing and treating pain in all their patients in the safest and most effective manner possible. Dr. Pamela Levin is the only CVPP in the State of Vermont.
Mike Miceli: Building Maintenance & Repairman
After retiring from a long career as general manager of Windshield World, Mike was looking to volunteer some time to a local organization.
Without a dog for the first time in many years, and unable to make a year-round commitment to a new pooch, HSCC was his number one choice. After a few months of shelter help and dog walking, a part-time position for Building Maintenance and Repair became available. Having observed an incredibly competent, dedicated and hard-working staff in action, Mike was thrilled when asked to be more integral to the betterment of the animals in our care.
Mike lives in Williston with his wife Kate and cat Libby.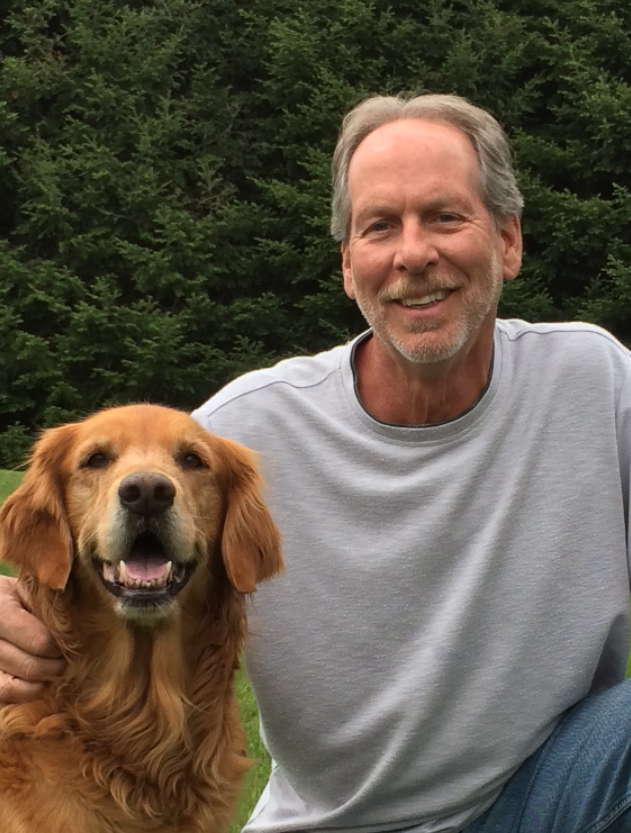 JoAnn Nichols: Humane Investigator & educator, TNR specialist
JoAnn Nichols started in the animal welfare and animal rights movement in the late 1970s. Over the decades she has worked undercover for an animal rights organization photographing cruelty in the factory farm systems, to cleaning oiled wildlife from oil spills. Working in Animal Sheltering for over twenty years, currently she is the Humane Investigator and TNR Specialist at the Humane Society of Chittenden County, she enjoys the challenges the work brings and partaking in making a difference for just one animal in need. Along with her employment at HSCC, she also works at BEVS (Burlington Emergency and Veterinary Specialists), is the part-time Animal Control Officer for South Burlington and operates her own wildlife business providing humane solutions for homeowners when wildlife moves into their home. Shown with JoAnn is her side-kick, Lucinda. Lucinda was relinquished as part of a cruelty investigation and was nursed back to life by JoAnn. They are now a forever family.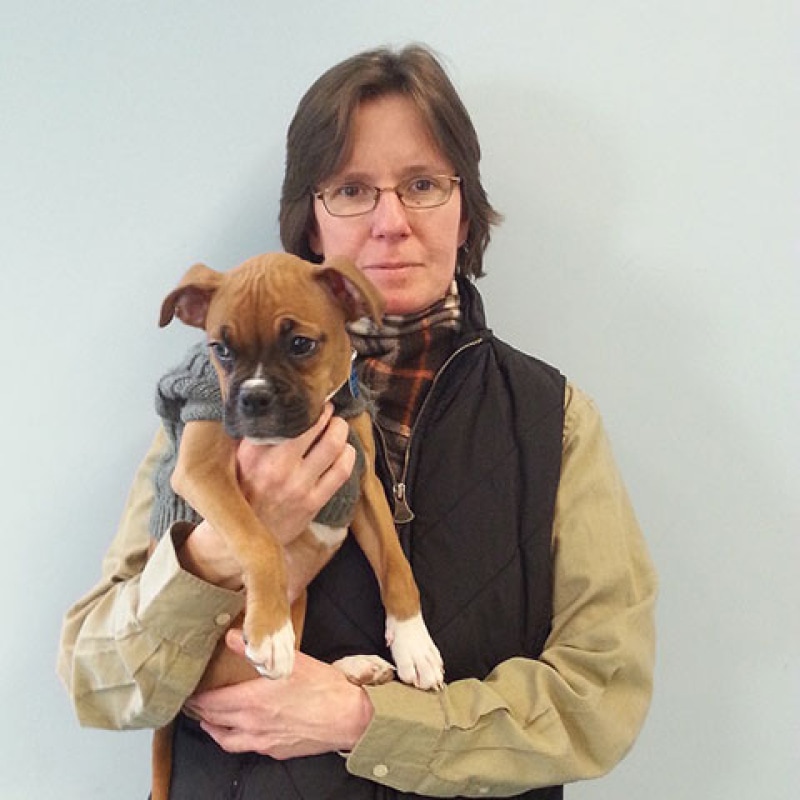 Zoe Rosen: Animal & Customer Care
Zoe grew up outside of Chicago and has always had a soft spot for animals big and small. Volunteering at various shelters at a young age fostered her desire to improve the lives of animals, and when she learned that taking care of animals could be a career, she couldn't say no! Zoe moved to Vermont to go to UVM and pursue a degree in Wildlife Biology, and after graduation in 2020, she realized she loved Vermont too much to leave. Although Zoe does not have any animals of her own, she is so excited to be able to continue her passion of taking care of animals in need with HSCC.
KELLY SCHULZE: MOUNTAIN DOG PHOTOGRAPHY
Kelly Schulze is an award-winning Master Photographer and Certified Professional Photographer who specializes in studio and environmental animal portraiture. With her love and understanding of animal behavior, years of technical training, and a fast shutter finger she is able to consistently wow her clients with stunning, heartwarming portraits and an unforgettable experience.
Kelly is based out of Monkton, Vermont and travels throughout the northeast for on-location portrait sessions. She is also available for animal-related product photography and commercial licensing.
Kelly and her husband, Ian, are allowed to graciously share their home with five dogs (Logan, Jackson, Molly, JB, and Baloo), five cats (Luci, Bink, Dorie, Judy, and Masson), Scarlett the horse, and a flock of laying hens.
Kristina Madarang Stahl: Customer Care Coordinator
Kristina is from the Washington, D.C. area. She was most recently a bear biologist and grant writer at Four Paws International Bear Sanctuary Prishtina in Kosovo, where she helped rehabilitate 20 Eurasian brown bears rescued from illegal captive conditions. Before her time with the bears, she worked in biomedical research philanthropy at Georgetown University Medical Center. Kristina went to Johns Hopkins University for both her undergraduate degree in French language and literature and her graduate degree in environmental science and policy.
Kristina is a certified wildlife rehabilitator and holds certificates in animal behavior, animal welfare, environmental communications, project management, and fundraising. She serves on the Board of Directors of the Bear Care Group (a global non-profit that puts on conferences for bear husbandry professionals) as the philanthropy and communications officer. Kristina spends her free time trying to tire out her standard poodle (Jackie), hiking, playing tennis, boxing, singing, and playing piano.
Lynne Steinhoff: Development Assistant
Lynne has a lifetime affinity for all creatures great and small!
Working at HSCC is a perfect outlet for her passion. Lynne's love for both people and animals makes her excited and proud to work with this hardworking, dedicated team. Her past jobs as a dog trainer, office manager and in hospitality give her a deep well of experiences to inform her work. Her love of dogs makes showing up for work not feel like a job at all. Lynne lives in Williston with her husband, Mark, three dogs (Kaiya, Roxy and Bella) and Snowball the cat.
Lucy Weaver, MA, CPDT-KA: Dog Training & Behavior
Lucy's passion is improving both the quality of life for animals in human care and the relationship between humans and their animals. She has worked at animal rehab centers, shelters, farms, and zoos, and has experience with a variety of animals including seals, goats, owls, parrots, cats, and dogs. Her connection to creatures great and small led her to earn a Master's degree in Animal Behavior & Conservation at Hunter College in 2015 and to a dog training apprenticeship with Andrea Arden Dog Training in NYC. While in the city, Lucy taught dog owners in private lessons and group classes and worked in the behavior department at the ASPCA. Lucy and her husband Evan (both Chittenden County natives) lived in NYC for five years before returning at last to the Green Mountains where they belong. Now Lucy has her own dog training business, Dogspeak, and is thrilled to be working with the HSCC staff to solve dog behavior challenges. She and Evan share their home and their hearts with a rescue pup named Willow.