*FOSTER PROGRAM UPDATE*
MARCH 24, 2020
Thank you to all who have emailed or sent in a foster application! Due to the overwhelming response from our community, we are not currently accepting new foster applications. We are working hard to review those that have already been submitted and get the information into our system so that we can match fosters with animals based on their unique needs. More detailed updates will be sent to fosters as their applications are approved and we will share important news on our website & social media as the situation develops. Thank you for your patience and understanding!
*Important covid-19 update*
March 23, 2020
In accordance with Governor Scott's mandate for businesses & nonprofits to be closed to anything other than essential business effective at 8 p.m. this evening, HSCC will be doing the following:
Temporarily closing our facility to all visitors. Pet adoptions are currently on hold, but we are working on safe alternatives to continue our adoption process. Please stay tuned!
Limiting animal intakes to truly emergent cases only
Relying on foster families to give our current residents a new place to stay
Continuing with our outdoor free pet food shelf, provided that those at the food shelf adhere to social distancing rules of AT LEAST 6 feet of space between people. We will have a staff member around to monitor the food shelf and unfortunately will have to discontinue this service if enough space is not granted OR if people are taking more than the 2 items allowed per household.
A limited number of staff will be on-site, but you are still welcome to reach out to us at (802) 862-0135 or bestfriends@hsccvt.org with any questions or concerns. We will be updating the public as soon as possible with further changes.
Thank you for your patience & understanding during these uncertain times.
HSCC updated adoption/relinquishment policy
March 18, 2020
The Humane Society of Chittenden County, caring for animals and people since 1901, will be open by appointment only for those wishing to adopt a pet, or that have an emergency animal relinquishment, effective immediately. The pet food shelf will be accessible by calling ahead to 862-0135 X10. To do our part to stem the tide of COVID-19 and protect our community, our facility will be closed to the public for all other business.
Please give us a call at 862-0135 if you have further questions - thank you for your understanding!
HSCC Business Continuity Plan
March 12, 2020
In light of the uncertainty surrounding the COVID-19 virus and its recent designation as a global pandemic with known cases in Chittenden County, the Humane Society of Chittenden County is committed to maintaining a healthy work environment for our employees and our volunteers while continuing to provide the highest quality care for our animals. With this in mind, we are asking our customers and members of the public to assist us in taking the following precautions:
1. We are directing employees and volunteers to remain at home if they feel ill or are symptomatic, have just returned from China, South Korea, Iran and Italy, or believe they may become ill by being at higher risk for the virus according to the CDC warnings.
2. We are asking the public to adhere to our hygiene protocols upon entering our facility and are limiting any visits from the public that is not expressly for the purpose of adopting an animal, e.g. 'just looking', until further notice. Additionally, we are asking those customers who display symptoms of the virus, have just returned from Japan, China, South Korea, Iran and Italy, or believe they may become ill by being at higher risk for the virus according to the CDC warnings, to postpone their visit.
3. We are reviewing meetings and events and postponing where needed while also encouraging conference/video calls in lieu of in-person meetings.
4. We have instituted additional rigorous disinfecting protocols as well as provided staff with good hygiene routines.
5. We are preparing for the possibility that some of our staff may have to work remotely and are making accommodations for those who do.
6. We will be asking for more information prior to community intakes of animals to determine if their family members may have been exposed or are symptomatic.
7. We are committed to providing assistance to our non-exempt staff that may become unable to work due to illness.
8. We are not taking any drop-off donations (towels, blankets, animal accessories, carriers, etc.) until further notice.
It is important to note that there is nothing to suggest at the time of this writing that COVID-19 can be transmitted from companion animals to humans or vice versa.
We will be updating our messaging as things evolve. For more information please visit https://www.cdc.gov/coronavirus/2019-ncov/summary.html
Stay tuned for Bark & Brew 2020! The Helyn Kerr Humane Education Series offers free seminars on various humane education topics that are geared towards anyone interested in knowing more about their companion animals. Past seminars have focused on how dogs think and perceive the world, the latest in feline nutrition, our work in humane investigations, Vermont's animal cruelty laws, first aid for pets, and much more!
Thank you all for coming to Purrrses for Paws 2020! Until next year!
Sunday, May 24, 2020! More infomation coming soon!
Adoption Center Hours:
Tuesday - Friday: 1:00 - 6:00 pm
Saturday: 10:00 am - 4:00 pm
Sunday & Monday: CLOSED
Please note we have limited services one hour prior to closing. Dog visitations end at 5:30PM on weekdays and at 3:30PM on Saturday. While we do our best to accommodate all visitors, if you are interested in adopting, we recommend visiting us earlier in the day.
Happy Stories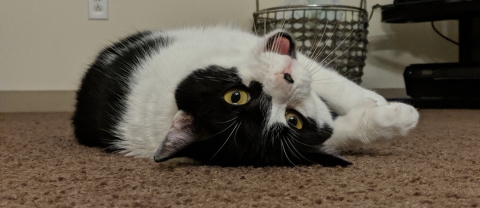 December 27, 2019
---