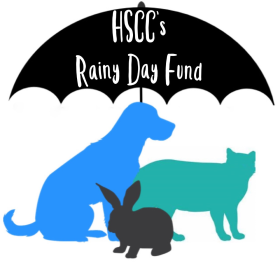 The Humane Society of Chittenden County's main goal is to keep pets with the people who love them and the cost of medical care remains a top reason why pets are relinquished. To help members of our community avoid having to part ways with their beloved companions, HSCC's Rainy Day Fund offers financial assistance for Chittenden and Grand Isle County residents who are unable to pay for their pet's unanticipated emergency medical treatment. This service is completely donor-funded and truly makes a difference in the lives of people & their pets.
If you are interested in applying for Rainy Day Fund assistance, please begin the process by submitting the form below. Additional information & documentation is necessary in order to review your application, including:
A signed application
Proof of Chittenden County or Grand Isle County residency (copy of driver's license, passport, item of mail, etc.)
Proof of low income (Social Security / Disability benefits form / pay stub)
Proof of spay/neuter for any pets in home
Current estimate from your vet detailing medical needs and total estimate of cost for care/procedure
All documents may be submitted by emailing bestfriends@hsccvt.org, faxing us at (802) 860-5868, or mailing to HSCC at 142 Kindness Court, South Burlington, VT 05403.
Alternatively, you may download the Rainy Day Fund application (Microsoft Word or PDF ). Fill in all necessary information, save the file, and either send as an email attachment or print to fax/mail a hard copy.
For more information or assitance with the application process, please call HSCC at (802) 862-0135 x19.