Humane Heroes Workshop is a half-day program (8:30AM-12:30PM) for students ages 7-8 and 9-10. Each day will be focused around a humane education theme, including Pet Needs, Animal Health, Animal Behavior, The Humane Society, and How to be a Humane Hero. In addition to age appropriate daily humane education lessons, students will be working on mini projects that support pet enrichment and can be brought home to their own pets! Students will also create their own vision boards about their journey in humane education and how they envision their relationships with animals now and in the future.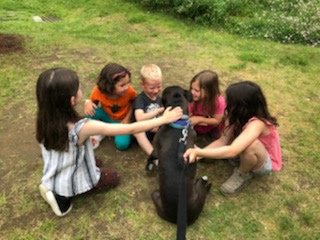 **As a working humane society, we provide care for animals with a wide variety of personalities and behavioral/medical needs. Although students will see animals during their program, we cannot promise a certain amount of direct animal contact.**
2024 Dates: Coming soon
Please check back for 2024 dates and registration!
HSCC Program Refund Policy:
In the event of cancellation, refunds will only be issued if requested prior to 14 days before the 1st day of the program to allow time for program spots to be filled.
Adoption Hours:
Tuesday - Friday*: 1PM - 5PM
*Thursday 12/14: 1PM - 3PM
Saturday: 10AM - 4PM
Sunday & Monday: Closed
Happy Tails