Poppy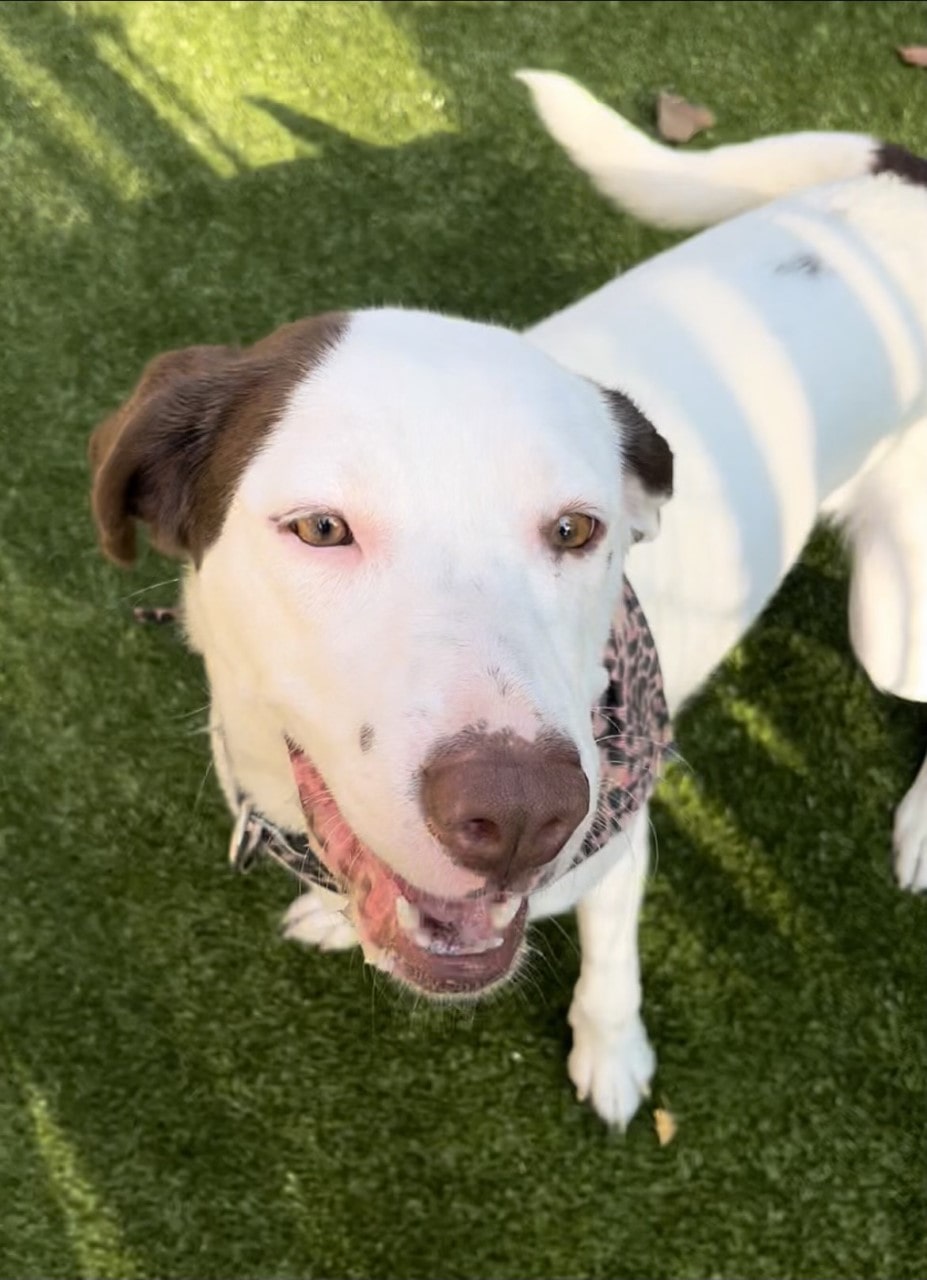 Sex: Spayed female
Dogs:
Cats:
Kids:
House Trained:
Crate Trained:
Breed: American Shelter Dog
Age: ~ 2 years old
Reason Here: She was brought to HSCC as a stray.
Arrival Date: 9/14/2022
Energy Level:
Size/Weight: 56 lbs.
Special Considerations:
MEET POPPY!
Just like her floral namesake, Poppy is a bright, beautiful gal! She's new to HSCC but we've all fallen in love with her goofy personality and big puppy dog eyes. She's playful, energetic, and inquisitive, and ready to start the next chapter of her life with a loving family by her side. Come meet Poppy and see if she's the pup for you!
ENERGY LEVEL: Medium/high
- She'll need plenty of physical exercise and mental enrichment every day!
DOGS: No known experience living with other dogs
- We don't know whether Poppy has ever lived with other dogs.
- She has made some dog friends here at HSCC, including in an off-leash playgroup.
- If you have another pup at home, we are happy to facilitate an introduction here at HSCC to get a sense of how everyone gets along.
- We recommend slow, careful introductions to other dogs. Monitor their body language to know whether one or both dogs are uncomfortable. Keep in mind that just because a dog likes some other dogs, doesn't mean that they will like all other dogs.
CATS: No known experience
- Poppy doesn't have any experience with cats or other small animals that we know of.
- If you've got small animals at home, consider ahead of time how best to introduce them and manage their interactions.
KIDS: No known experience
- Poppy doesn't have any experience with children that we're aware of. She has not shown any behaviors like resource guarding or handling sensitivity that would be particularly concerning with kids around, but she is a large, exuberant dog who may be overwhelming for very small children.
- We recommend supervising interactions between kids and dogs to make sure everyone is behaving appropriately and staying safe.
SPECIAL CONSIDERATIONS:
Poppy was brought to HSCC as a stray, so we have very limited information about her background or her at-home behavior. While in our care, she has been a bouncy, playful pup.
- When excited, she may jump up on people and/or mouth at their hands (with more slobber than teeth). This is normal dog behavior, but not always fun – we're happy to provide strategies for managing jumpy/mouthiness and teaching alternative behaviors.
- Poppy has shown some nervousness when first meeting new people, sometimes barking at or avoiding them. She generally warms up quickly when offered verbal reassurance and treats, but her new family should be aware that she may need time to get comfortable with new people and avoid pushing her past her threshold.
Poppy is an energetic, enthusiastic pup and will benefit from some basic training to set her up for success in her new home.
- Basic training classes or a few sessions with a trainer can be a great way to get started.
- Training is a great way to build a bond with your new pup, like learning a common language.
- Be consistent from day 1 – it's much easier and less confusing for the dog to loosen the boundaries later than to implement new rules.
- We recommend positive reinforcement-based training – teach Poppy what you want her to do! We do not recommend e-collar or punishment-based training, as these methods often have long-term negative effects on dogs (physically as well as psychologically) and create behavioral problems.
- We are happy to provide guidance on training resources, methods, and finding a trainer.
HOUSE TRAINED: Unknown
- We don't know whether Poppy has been house trained in a typical home setting.
CRATE TRAINED: Unknown
- We don't know whether Poppy has any experience being crated in a home setting.
- If you're interested in using a crate with her, be prepared to start from scratch with crate training, take it slow, and make the crate a comfortable safe space for her.
Adoption Center Hours:
Tuesday - Friday: 1:00pm – 6:00pm
Saturday: 10:00am - 4:00pm
Sunday & Monday: CLOSED
Happy Tails