She is warming up to the life of luxury she deserves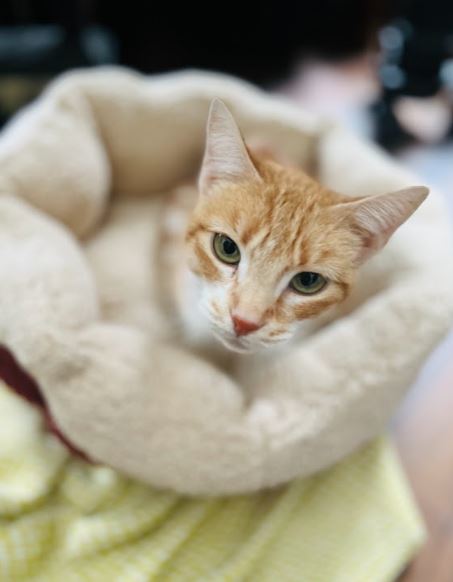 Sex:
Dogs:
Cats:
Kids:
House Trained:
Crate Trained:
Breed:
Age:
Reason Here:
Arrival Date:
Energy Level:
Size/Weight:
Special Considerations:
We wanted to send a little update on our kitty friend Cheddar, who was rescued from the Mississippi neglect case. From the moment she came home, our 2.5 year old son adored her right away and referred to her as "Sweet Maple Kitty." Given that Vermont will now be her forever home, and that we adopted her during sugaring season, the name Maple has stuck. Maple is very sweet and loves affection, and she clearly has a sense of adventure. She's still skittish around our toddler, but he's learning how to approach her calmly so that she feels safe, as he did for our older cat.
She's very food motivated (which makes sense) and sometimes swats at us when she wants more treats or food, but we're working on that behavior and helping her to understand that now, she will always have access to good food and water. She and Bones are a little team. They can be found sweetly touching noses when they walk by one another, and they spend a lot of time together.

We're looking forward to continuing to get to know Maple as she warms up and feels more and more safe, and we're really impressed with her bravery and sweet disposition given her background! Her favorite spot right now is on our emerald green velvet chair. With her coloring, she truly looks like a queen, and is warming up to the life of luxury she deserves.
Thank you for rescuing Cheddar/Maple so that she could find her forever home with us!
Adoption Hours:
Tuesday - Friday*: 1PM - 5PM
*Thursday 12/14: 1PM - 3PM
Saturday: 10AM - 4PM
Sunday & Monday: Closed
Happy Tails