Thank you for bringing these very special cats into our lives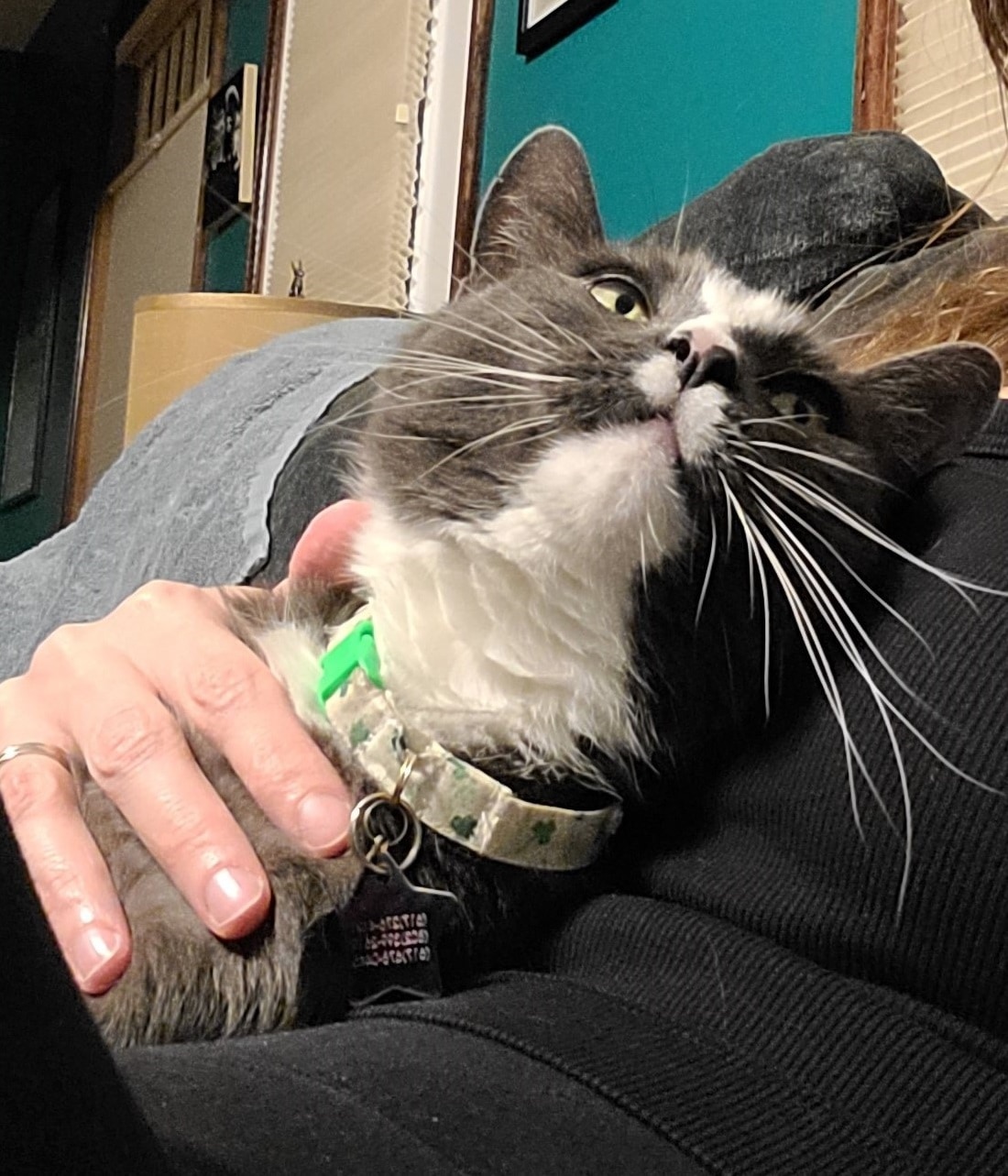 Sex:
Dogs:
Cats:
Kids:
House Trained:
Crate Trained:
Breed:
Age:
Reason Here:
Arrival Date:
Energy Level:
Size/Weight:
Special Considerations:
We wanted to give a long overdue double-happy tails update on Lucky Boy, adopted in February 2022 at age 14.5, and his sister Brownie, adopted in October 2019 at age 4 months. As you will read below, both kitties are doing great - they are happy and healthy, and have become very good friends!

Although Lucky Boy was pretty stoic when we met with him at HSCC, we could tell he was a sweet boy who just needed some time to get to know us. As it turned out, that time was about the length of the car ride from HSCC to our house, because as soon as we brought him home, he revealed his outgoing, affectionate personality. He is an excellent catbassador to all our guests (including over Zoom!) and greets us every morning with excited chirps and tail wiggles. He is a very good boy about eating his special kidney diet food, although he loves all food and will gladly swap dishes with his cat siblings if given the opportunity. He is a relentless and loveable purr machine and "Velcro cat" who loves nothing more than snuggling as close as he can with his humans and angling to give gentle love bites and cheek rubs, and will gently nudge and pat us with a soft paw until we give him our full attention. He especially loves snuggling up to his Dad's beard.

Lucky has also become good buddies with his siblings, fellow senior gentlecat Hoover and HSCC alum Brownie, who warmed right up to him after losing her 18-year-old best friend Benjamin in late 2021. Lucky Boy has become an especially wonderful playmate and companion to Brownie, and seeing them tear around the house together it's hard to believe that Lucky Boy is now approaching 16 years young!

Speaking of Brownie, she still has the same "catitude" she had as a kitten when we adopted her, but is a secret sweetheart who enjoys being held and petted by her humans, snuggling (and wrestling) with her cat siblings, scanning the yard for squirrels and raccoons from the safety of her screened porch, obsessively stalking the Christmas tree and other plant life, watching TV with the humans, and burrowing under blankets to sleep and play incognito. Despite her sometimes grumpy facial expressions, she is full of purrs and is a very gentle and tolerant little girl, and remembering our introduction at HSCC (when she immediately hissed at us and retreated to a corner of her enclosure) makes it even more rewarding when she approaches us for pets or climbs up into our laps for a nap.

Thank you for bringing these very special cats into our lives!
Adoption Hours:
Tuesday-Friday: 1PM - 5PM
Saturday: 10AM - 4PM
Sunday & Monday: CLOSED
Happy Tails