The Professor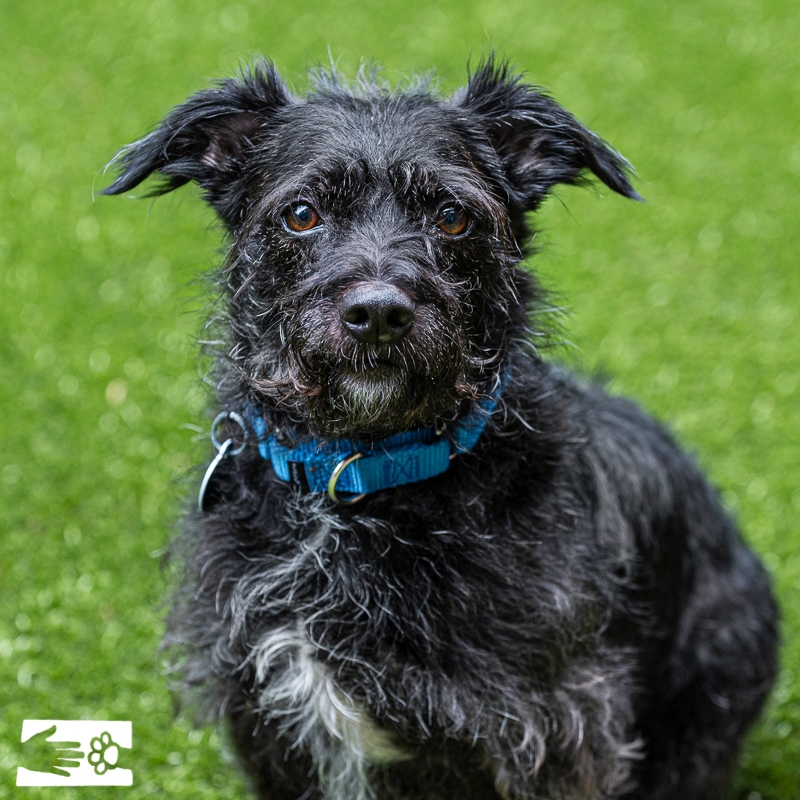 Sex: Neutered male
Dogs:
Cats:
Kids:
House Trained:
Crate Trained:
Breed: American Shelter Dog
Age: ~ 5 years old
Reason Here: He was brought to HSCC because he was not a good fit in his previous home.
Arrival Date: 8/19/2022
Energy Level:
Size/Weight: 26 lbs.
Special Considerations:
MEET THE PROFESSOR!
This little cutie is looking for a new home and a fresh start in life. He's a sensitive guy who will appreciate a relatively quiet home and a family that will be patient with him as he gets used to the new environment. The Professor would be happy to join you for walks around the neighborhood or relaxing on the couch (his favorite Netflix binge is Money Heist, in case you're wondering). If he sounds like the kind of canine companion you're looking for, come meet the Professor and learn more about him at HSCC.
ENERGY LEVEL: Medium
- He'll need exercise and mental enrichment every day, in a way that is comfortable for him.
DOGS: Has lived with another dog, will be most successful as the only dog in his new home
- The Professor originally came to HSCC with another dog, likely a littermate, and has lived with him since. The two get along well but tend to get themselves into trouble when together, so they are now looking for separate homes where their individual personalities can shine!
- He has done well in off-leash play groups with other smaller, mellow dogs but his behavior tends to escalate in an unhealthy way when he and another dog "team up". He may do well with some dog friends to hang out with from time to time, but would be most successful as the only dog in his home.
- Slow introductions to other dogs are always recommended. Keep in mind that just because a dog has done well with some or most other dogs, doesn't mean they will like all dogs (just like people!).
CATS: Needs a home without cats or small animals
- The Professor has limited experience with small animals but has shown some predatory behavior toward them in the past.
- For everyone's safety and wellbeing, we recommend that he go to a home without cats or other small animals.
KIDS: No known experience
- The Professor doesn't have any experience with kids that we know of. He would prefer a home without children.
- We recommend supervising interactions between kids and dogs to make sure everyone is behaving appropriately and staying safe.
SPECIAL CONSIDERATIONS:
The Professor is often playful and cuddly with his friends, but he can be nervous with new people and in new environments. It will likely take time for him to warm up to visitors and to settle into his new home.
- His new family will need to be patient and committed to working with him to build his confidence and help him feel more comfortable with new friends.
- We are happy to provide guidance on ways to help The Professor be his very best self!
He can be sensitive to handling, particularly around his neck and feet, and will benefit from some counter-conditioning work to help him feel more comfortable. We are happy to talk more about this and provide some strategies for helping him!
The Professor isn't a puppy, but he'll benefit from some basic training to set him up for success in his new home. Basic training classes or a few sessions with a trainer can be a great way to get started.
- Be consistent from day 1 – it's much easier and less confusing for the dog to loosen the boundaries later than to implement new rules.
- Training is a great way to build a bond with your new pup, like learning a common language.
- Learning new skills is also a great way for nervous dogs to build confidence!
- We recommend positive reinforcement-based training – teach The Professor what you want him to do! We do not recommend e-collar or punishment-based training, as these methods often have long-term negative effects on dogs (physically as well as psychologically) and create behavioral problems.
- We are happy to provide guidance on training resources, methods, and finding a trainer.
HOUSE TRAINED: Still working on it
- In his previous home, The Professor and the other dog would sometimes urinate in the house when they weren't crated. He sometimes has accidents in his kennel here at HSCC.
- Keep in mind that a dog who is house trained in one home may still have accidents in a new environment.
CRATE TRAINED: Yes
- The Professor has been crate trained, and was often crated in his previous home.
- Having a crate or other safe space where they can go to relax when feeling overwhelmed is a great idea for nervous pups.
- If you're interested in using a crate with The Professor, be prepared to take it slow and make the crate a comfortable safe space for him.
Adoption Center Hours:
Tuesday - Friday: 1:00pm – 6:00pm
Saturday: 10:00am - 4:00pm
Sunday & Monday: CLOSED
Happy Tails