Feral Cats & TNR: 6 Frequently Asked Questions
October 16, 2023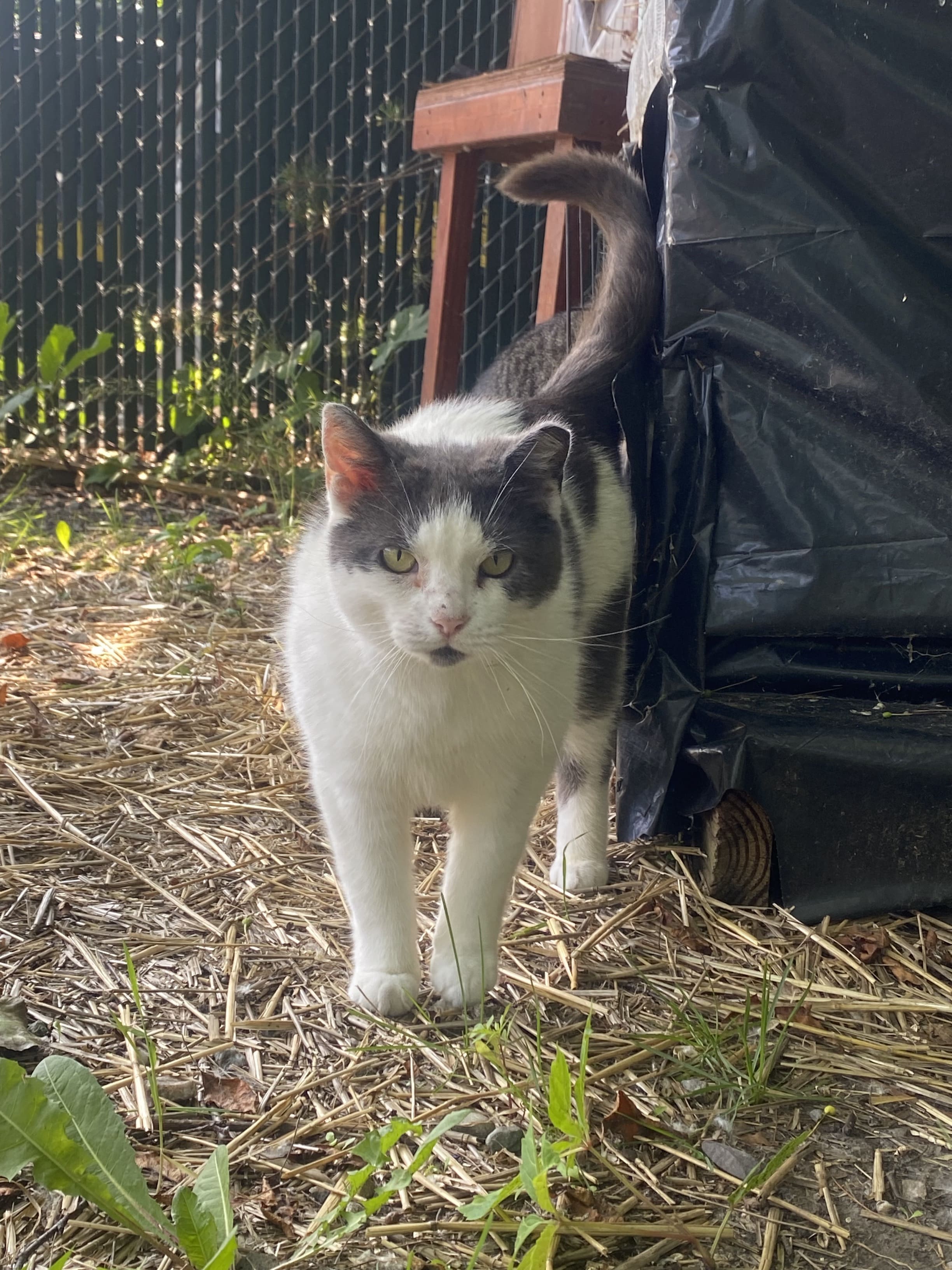 If you live in Vermont, you've probably seen cats outdoors at some point. Some of these cats are indoor-outdoor cats and strays, but some of them are feral cats who live and thrive in our community! Read on below to learn more about distinguishing a feral cat from a stray, what TNR is and how it works, and how you can help our free-roaming friends.
1. How do I know if a cat is "feral"?
A stray cat is a pet who has been lost or abandoned, is used to contact with people and is tame enough to be adopted. A feral cat is the offspring of stray or other feral cats and is not accustomed to human contact. Feral cats are usually too fearful to be handled or adopted. Stray cats may be reunited with their families or adopted into new homes, but feral cats will find it difficult or impossible to adapt to living as pets in close contact with people. Since it is difficult to determine each cat's socialization during a stressful event such as trapping, it's a good idea to observe cats on their own outdoors. A common difference between stray and feral cats are eye contact (strays will blink, ferals will not) and vocalizations (strays will meow, ferals will not). Please refer to the stray vs. feral cat chart below for additional examples to consider.
2. What is TNR?
TNR stands for Trap-Neuter-Return, which is the humane & effective approach to addressing community cat populations. Through TNR, cats are humanely trapped, spayed or neutered, and vaccinated. The tip of one ear is painlessly removed to indicate the cats are part of a TNR program (so they can be easily identified in the future as having already been spayed/netuered). Cats are then returned to their outdoor homes where they live and thrive, ending the cycle of producing new litters of kittens.
HSCC's Community Pet Clinic offers TNR services for feral cats who can return to their original location with a dedicated caretaker - click here to learn more!
3. Does HSCC euthanize feral cats?
HSCC does not euthanize feral cats. To reduce the amount of free-roaming cats in a neighborhood, the solution is to maintain a sterilized, managed colony. Trap-and-kill programs & relocation programs do not work, nor do they fall within HSCC's mission. Because of the territorial nature of feral cats, when all the resident cats are removed from an area a "vacuum" is created, and cats from nearby neighborhoods will often move into this new unclaimed territory. TNR is the cornerstone of cat colony management and the only successful long-term strategy for humanely controlling the population of feral or free-roaming cats. A sterilized colony of feral cats will stabilize and eventually decline in numbers through illness, accidents, and old age. A sterilized colony often acts to keep new, unsterilized cats away from their colony.
4. Where can feral cats live?
Feral cats are wild and cannot be placed in adoptive homes. They thrive outdoors and should stay there, but they need human caretakers to make sure they have access to food and water. After TNR, a feral/community cat can be returned to the same location they were found (if they have a caretaker) or HSCC can find placement through our Working Cats Program. There are lots of places that can serve as safe, comfortable homes for working cats. Barns, warehouses, workshops, and garages are just some of the environments in which working/feral cats can thrive.
5. Can HSCC pick up/remove feral cats from my home/business?
HSCC may be able to help lead TNR efforts on a case-by-case basis, but largely relies on the community to assist in caring for and trapping feral cats. HSCC can provide resources such as trap rentals (available from the HSCC lobby), appointments for TNR through our Community Pet Clinic, as well as advice and guidance on trapping and caretaking. You may contact HSCC at (802) 862-0135 or bestfriends@hsccvt.org with any questions about feral cats and TNR services.
6. What can the community do to help feral cats?
The best ways to help feral cats are to assist in TNR efforts or become a caretaker. A caretaker for a feral cat or a colony of cats provides food, water, and shelter, monitors the cats for sickness or injury and TNRs new feral cats who arrive.
Kittens young enough to be socialized (~0-6 weeks old) can be removed from the colony for possible adoption. Visit our Free-Roaming Cats & TNR webpage to learn more about out outdoor feline friends, and for a visual guide to identifying a kitten's age.
Click here to learn more about how to start a TNR project, and contact HSCC at (802) 862-0135 or bestfriends@hsccvt.org if you have any questions!
Stray Vs. Feral Cat Chart
(from Alley Cat Allies)
STRAY CAT

FERAL CAT

SOCIALIZATION TO HUMANS

May approach people, houses, porches, or cars.

Will not approach and will likely seek hiding places to avoid people.

SOCIALIZATION TO OTHER CATS

Will likely live alone, not be part of a group,

May belong to a colony.

BODY LANGUAGE

Might walk and move like a house cat, such as walking with tail up—a sign of friendliness.

Will probably look at you, blink, or make eye contact.

May crawl, crouch, stay low to the ground, and protect body with tail.

Unlikely to make eye contact (if they do look at you, they are unlikely to blink and will maintain open eyes).

VOCALIZATION

May be vocal, meow, or "answer" your voice.

Won't meow, beg, or purr.

SCHEDULE

Will be visible primarily during the daytime.

More likely to be nocturnal; occasionally out during the day.

PHYSICAL APPEARANCE

Will probably be dirty or disheveled.

Will probably have a clean, well-kept coat.

A male with a big head and thick neck, muscular body, and/or scars from fighting is more likely to be feral, since these are traits associated with intact males. He may also have a spiky coat from high testosterone levels and less time spent grooming; may also have "stud tail"—hair loss, greasiness, or bumps at the base of the tail due to hormones.

Will usually not have an eartip.

Will likely have an eartip if neutered as part of a TNR program.

TOUCH BARRIER

It may be possible to touch the cat eventually or she may tolerate a small amount of touching with an object.

Cannot be touched, even by a caregiver.

CAGE BEHAVIOR

May come to the front of the cage.

Will likely stay in the back of the cage and retreat as far back as possible.

May eventually rub against the cage in a friendly way.

If jolted or frightened, may shake, rattle, or climb the cage, and could become injured banging into the cage.

LEVEL OF RELAXATION

May relax over time.

Will remain tense and unsocial.

RESPONSIVENESS

May investigate toys or food placed near the cage.

Will likely ignore all people and toys, and possibly even food.

May respond to household sounds like cat food cans or bags being opened.

Will not show any familiarity or interest in household sounds.

FEAR AND ANXIETY

May hiss or growl to show anxiety.

Will be aggressive and lash out if threatened or cornered (signs of aggression include ears back and eyes dilated).
Categories: Blog | Tags: | Posted by: admin
Adoption Hours:
Tuesday - Friday*: 1PM - 5PM
*Thursday 12/14: 1PM - 3PM
Saturday: 10AM - 4PM
Sunday & Monday: Closed
Happy Tails