Dwight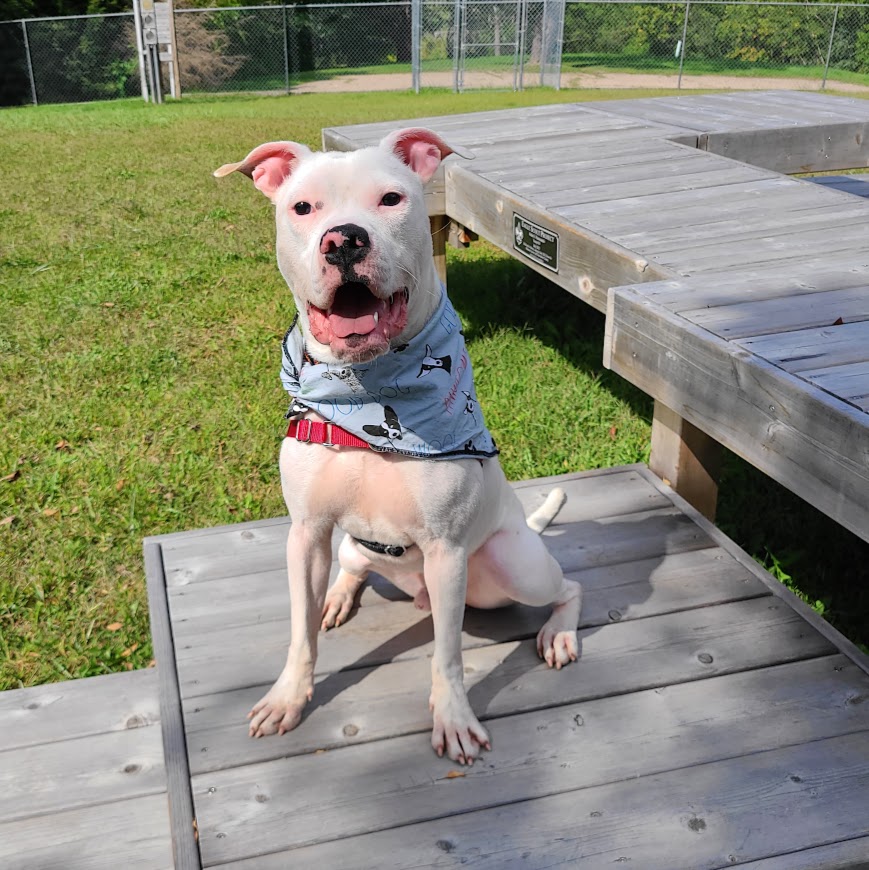 Sex: Neutered male
Dogs:
Cats:
Kids:
House Trained:
Crate Trained:
Breed: American Shelter Dog
Age: ~3 years old
Reason Here: He was transferred to HSCC from Fulton County Animal Services in Georgia.
Arrival Date: 8/23/2022
Energy Level:
Size/Weight: 42 lbs.
Special Considerations:
MEET DWIGHT!
This goofy dude was a staff and volunteer favorite at the shelter in Georgia, and it's easy to see why! He's a social pup who loves making new friends, and always has a big smile on his face. Dwight would love to join an active family for all kinds of adventures. If you're looking for a canine companion who can keep up on long hikes but is also happy to bounce around the back yard, he could be the one for you. He'd love to meet you!
ENERGY LEVEL: Medium/high
- He'll need plenty of exercise and mental enrichment every single day!
DOGS: Has lived with other dogs
- Dwight shared a kennel with other dogs at the shelter in Georgia and did well with them.
- Here at HSCC, he has done well with other dogs in adjacent spaces and in off-leash playgroups.
- Slow introductions to other dogs are always recommended. Keep in mind that just because a dog has done well with some or most other dogs, doesn't mean they will like all dogs (just like people!).
CATS: No known experience
- Dwight doesn't have any experience with cats or other small animals that we know of.
- If you've got small animals at home, consider ahead of time how best to introduce them and manage their interactions.
KIDS: No known experience
- Dwight doesn't have any experience with kids that we know of. He hasn't shown any behaviors like resource guarding or handling sensitivity that would be particularly concerning with kids around, but he's an energetic, bouncy dog who may be a bit too much for small children.
- We recommend supervising interactions between kids and dogs to make sure everyone is behaving appropriately and staying safe.
SPECIAL CONSIDERATIONS:
Dwight will benefit from some basic training to help set him up for success in his new home. Basic training classes or a few sessions with a trainer can be a great way to get started.
- Be consistent from day 1 – it's much easier and less confusing for the dog to loosen the boundaries later than to implement new rules.
- Training is a great way to build a bond with your new pup, like learning a common language.
- Learning new skills is also a great way for nervous dogs to build confidence!
- We recommend positive reinforcement-based training – teach Dwight what you want him to do! We do not recommend e-collar or punishment-based training, as these methods often have long-term negative effects on dogs (physically as well as psychologically) and create behavioral problems.
- We are happy to provide guidance on training resources, methods, and finding a trainer.
HOUSE TRAINED: Still working on it
- Dwight was still working on house training while in a foster home in Georgia, but seemed to be getting the hang of it quickly.
- Keep in mind that a dog who is house trained in one home may still have accidents in a new environment.
CRATE TRAINED: Yes
- Dwight was crated overnight and when left alone in his foster home, and reportedly did well. According to his foster, he loved peanut butter-stuffed Kongs while in his crate.
- If you're interested in using a crate with him, be prepared to take it slow and make the crate a comfortable safe space for him.
Adoption Center Hours:
Tuesday - Friday: 1:00pm – 6:00pm
Saturday: 10:00am - 4:00pm
Sunday & Monday: CLOSED
Happy Tails