Our lives are just so much better now that he is in it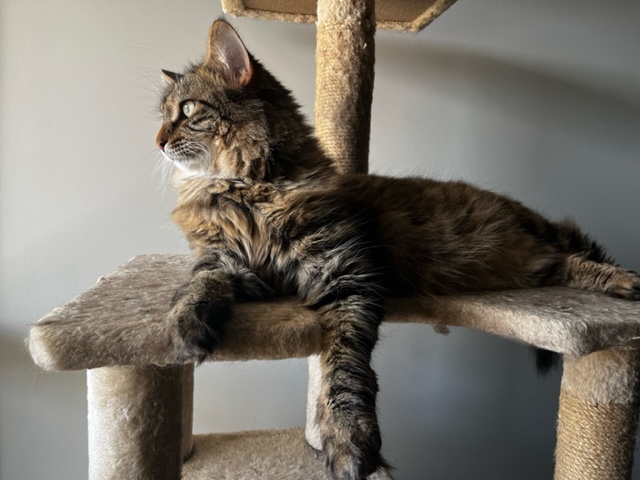 Sex:
Dogs:
Cats:
Kids:
House Trained:
Crate Trained:
Breed:
Age:
Reason Here:
Arrival Date:
Energy Level:
Size/Weight:
Special Considerations:
It's been about a year since we adopted Patchy and
we absolutely adore him. He is the most loving, loyal,
and funniest little cat I have ever met. He always keeps
us on our toes with his antics!

He ended up developing some health issues a few
months after we got him. He had several episodes
where he was limping and eventually unable able to
use his legs at all and was very lethargic. At first we
thought he injured his leg (since it started with just a
limp), but it kept happening and eventually started
affecting all his legs. We took him to the vet many
times and eventually got him set up with the neurologist
at BEVS. It took many months to figure out, but we
learned that he has Myasthenia Gravis - which is super
rare in cats! He's starting medication today and we are
so excited to have answers and to help our sweet boy.

I just wanted to share this with y'all because sometimes
it feels like the matches made at HSCC are fate. I
worked at BEVS and was also able to secure pet
insurance for Patchy before all this started (which
meant most of his tests/visits were covered). I also had
connections with some of the best vets that helped
Patchy get the care he needed! You would have never
known that Patchy was sick when we got him, but he
just so happened to win the hearts of a family who had
all the right connections to help him with his rare
disease. It just seems too perfect.

Thank you for all that you do. You are saving lives -
Patchy would likely not have made it if he continued
living as a stray. He now has a family who is
OBSESSED with him and our lives are just so much
better now that he's in it. On August 6th (the
anniversary of his adoption) we will be having a little
celebration for his 3rd birthday.
Adoption Hours:
Tuesday-Friday: 1PM - 5PM
Saturday: 10AM - 4PM
Sunday & Monday: CLOSED
Happy Tails