What to do if you find a stray cat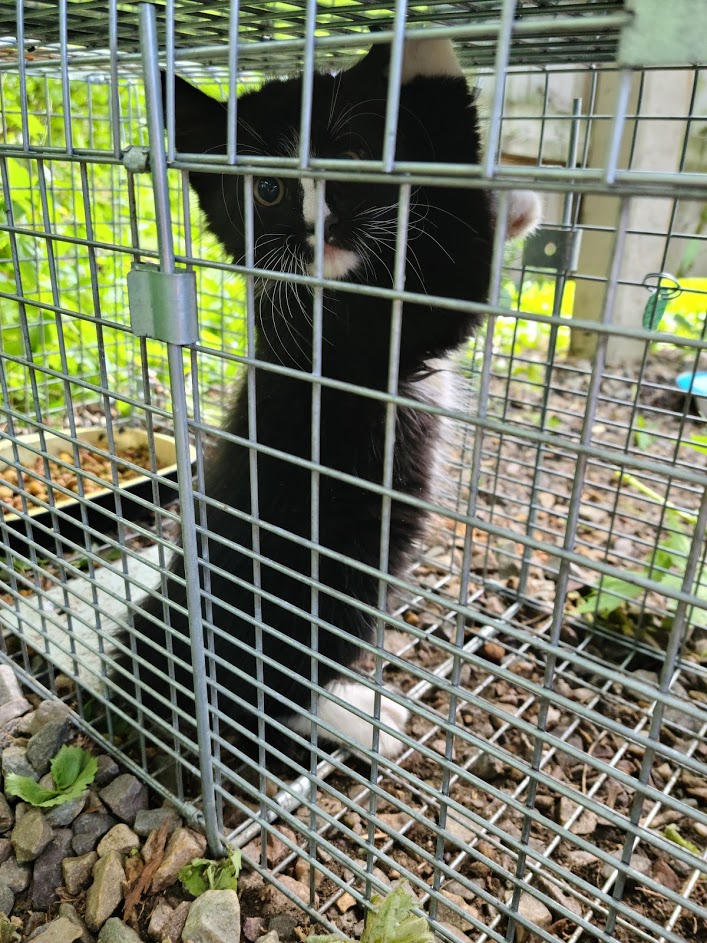 Sex:
Dogs:
Cats:
Kids:
House Trained:
Crate Trained:
Breed:
Age:
Reason Here:
Arrival Date:
Energy Level:
Size/Weight:
Special Considerations:
We're not the only ones enjoying the beautiful summer weather! Cats who find themselves outdoors, for whatever reason, may be more visible this time of year as they're lounging in the sun, hunting for their next meal, or looking to make new human friends. So what should you do if you spot a cat out and about?
Start by checking for identification. Some friendly cats enjoy the indoor/outdoor lifestyle, but wear a collar and tag with their caregiver's contact information. If you see the same cat hanging around the neighborhood consistently, check in with your neighbors and see if they know who he or she belongs to. If you come across a friendly, well-groomed cat outside, chances are good that they have a home. Feel free to stop by HSCC during our open hours and we can scan them for a microchip. You can also post on social media pages like Lost & Found Animals of Vermont and on Front Porch Forum to see if there's a caretaker looking for that particular kitty. (Interested in getting your cat microchipped? Click here to make an appointment at our Community Pet Clinic!)
If you've found a cat that needs urgent medical care – if they have difficulty walking, labored breathing, or an apparent serious injury like a broken bone, for example – contact Burlington Emergency & Veterinary Specialists for help. Young kittens found outside may be particularly vulnerable to predators and other environmental dangers, so if you've found kittens please give us a call and we can help you make a plan for next steps based on the specific circumstances.
HSCC operates on a managed admissions basis. Because we have limited space and staff, we schedule intakes for new animals to ensure that we have the resources to meet their needs. Animals need to be examined and vaccinated upon arrival at the shelter to prevent the spread of infectious disease, and we need to have space to house them in a safe, comfortable manner. This means that we cannot always take in a stray cat immediately after they are found. But, if you've found yourself with a new feline friend, we are happy to provide you with supplies to care for them until we can take them into our care. If you're not able to welcome a temporary houseguest, ask around to see if any friends, family, or neighbors might be able to assist.
If you've found a not-so-friendly feline hanging around, it's essential that you make a plan before starting the process of trapping them (give us a call, we're happy to plan with you!). If the cat in question is missing the tip of one ear, that's an indication that they've already been spayed or neutered and were intentionally re-released outside, so consider whether any intervention is necessary for them. Before setting that Havahart trap, there are a few other things to consider. A truly feral cat cannot be acclimated to an indoor, house cat life, so they will need a place to go. Ideally, they can be returned to the familiar location after their veterinary care is completed; if that's not an option, is there a place nearby where they may be able to live their best outdoor life? Housing feral cats in the shelter is uniquely challenging, both for their wellbeing and for ours, so the best course of action is to make an appointment for spay/neuter and other veterinary care and then planning to trap ahead of that date. Otherwise, you'll need to figure out where a feisty feline can live between the time they are trapped and the date of their veterinary appointment.
Not sure if the cat you've spotted is a scared indoor cat who wants to be indoors or a truly feral cat? Alley Cat Allies has a very helpful guide to making the important distinction between feral and stray cats.
Unfortunately, there is no one-size-fits-all answer to the question, what do I do if I've found a cat outside? It depends, based on a number of factors – the cat's age and condition, their sociability, where they were found, and the likelihood that there's a caretaker looking for them. But you can always give us a call (802-862-0135) or send us an email (bestfriends@hsccvt.org) and we'll help you figure out a plan that works for everyone.
To make an appointment to bring an animal to HSCC or learn more about our intakes process, please click here.
Adoption Hours:
Tuesday-Friday: 1PM - 5PM
Saturday: 10AM - 4PM
Sunday & Monday: CLOSED
Happy Tails