Teach Your Cat How to High-Five!
March 26, 2021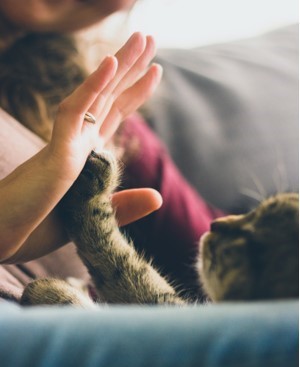 "Teach my cat? Yeah, right!" Ok, we know what you're probably thinking, but cats are absolutely able to learn new tricks! Just like any form of training, it's all about repetition, reward, and positive reinforcement. Getting attention from their favorite purrrson sure helps too!
If your cat is your best friend and you want to show them praise in a more "human-like" way, why not teach your cat to give a high-five? Here's how to introduce it!
Bring your kitty into a quiet room and carry some treats you know they love.
Sit down in front of them and show the treat in your hand.
Slowly raise the treat above their head. As they follow the movement of your hand with their head, don't let them get the treat by using their mouth. Instead, put them back into sitting position to try again.
When your cat paws at your hand that is holding the treat, tell them "yes" and reward them with the treat. Keep practicing until they understand their mission!
Repeat, but this time with an empty hand. Give them a treat when they "high-five" your hand again.
Finally, make it known that you do not have a treat in your hand, and repeat the steps as if you do. Hold your palm out to them, and when they high-five, give them a treat.
The repeated learned behaviors will trigger the cat to follow the previous steps and create a game-like scenario. There you have it! A genius cat who loves to high-five their owner AND prove the naysayers wrong. That's certainly worth a high-five in our book!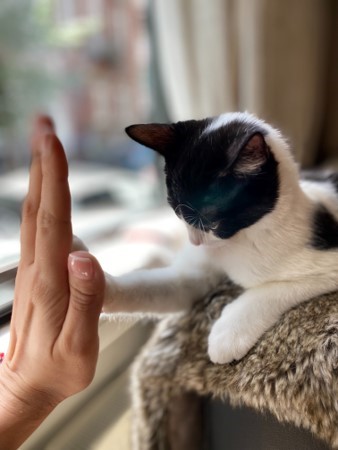 Categories: Blog | Tags: | Posted by: admin
Adoption Hours:
Tuesday - Friday*: 1PM - 5PM
*Thursday 12/14: 1PM - 3PM
Saturday: 10AM - 4PM
Sunday & Monday: Closed
Happy Tails